Hey everyone, I'm so pleased to be able to share my story with you. It has been a long journey of healing after being hurt by someone I loved deeply, but I'm so excited to say that I'm finally at a place where I'm ready to talk about it. I would love to share my experience, from feeling like I was betrayed by someone I trusted more than anyone, to finding the power and courage to trust again. So let's go on this journey together. Ready? Here we go!
Setting the Scene
It all started with an open heart and a good intention. I wanted to love someone deeply and without expectations. I wanted to give my whole self, without boundaries and without fears. Little did I know that the one I was opening up to wasn't looking for the same thing. Our relationship was a roller-coaster of emotions – some days great, some days challenging, but all days an adventure.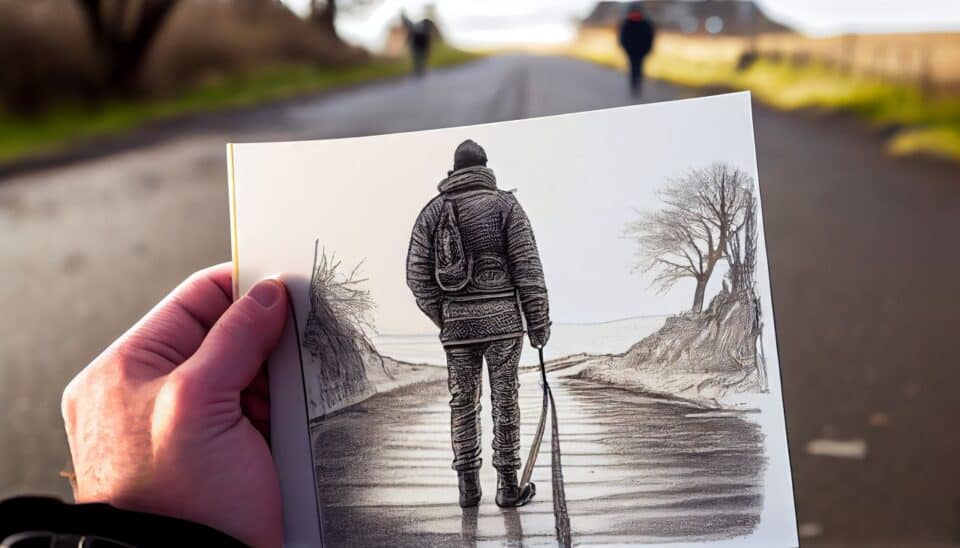 Little by little, things began to unravel until collectively we both pulled the curtain shut on our show. Once the dust settled, I found myself alone in a huge void filled with pain, disappointment, sadness and regret – all immense emotions surrounding something that had started off so wonderfully full of hope and promise.
As soon as my feet returned to solid ground (a little rocky but solid nonetheless) it was time for me to pick myself back up again – figuratively, of course! It was then that my journey towards healing began – daunting at first with its bundle of unknowns but exciting nonetheless (busyness helps!). Each day brought its own challenge, but each challenge also acted as an opportunity for me to dig deeper into myself and discover how strong I really am.
Exploring the Impact of Being Hurt
When I think back on my own journey of healing after being hurt by someone I loved – whether it was a friend, family member, or even a romantic partner – I struggle to find the right words to explain how it felt. Suddenly, nothing in my life made sense. Nothing felt safe. It seemed like I was stuck in a numb bubble, where all my responses and feelings were muted, and it can be difficult to make sense of this very painful and confusing emotion.
It's important to TAKE THE TIME TO REALLY UNDERSTAND THE IMPACT OF HAVING BEEN HURT BY SOMEONE YOU LOVE. This isn't something that you can run from or pretend never happened; instead, you have to take the time (however long that may take) to really process what happened, try to forgive whoever hurt you (even if you never have direct contact with them again), and move forward without resentment weighing on your shoulders.
Recognizing the significance of allowing yourself to navigate this healing journey is not only necessary but also empowering. Learning how much strength and resilience we have is such an underrated yet beautiful aspect of growth that comes out of tough times such as these – always remember that though the turning point might seem far away right now – it IS within reach!
Understanding the Process of Healing
When it comes to healing after being hurt by someone you love, it can be an incredibly daunting and complex process. I remember feeling overwhelmed by all the emotions that came up when my trust was broken. Even though I was scared, I knew I had to take the steps to recover and start finding my feet again.
In this article, I'm excited to share my journey of healing and how I navigated through the pain and rediscovered a life of joy.
Acknowledging Your Feelings
Your feelings of hurt, anger, and disappointment need to be acknowledged first before you can start the process of healing. It can feel scary to admit these feelings to yourself and easier to keep them bottled up. But by acknowledging your feelings of hurt, you are sending a message that what happened is unacceptable and that it mattered deeply.
Everyone's process of healing will look different and allowing yourself room to explore is key.
It's important not to focus on the person who has hurt you, but instead reflect on how they made you feel. This can help you begin the process of detaching from the source of your pain so that it doesn't consume your life. Acknowledge how these feelings make you feel, whether it's sad or angry or something else entirely. Knowing this about yourself can be powerful and can also allow us to come into contact with other people who have had similar experiences and open up about yours too in a supportive environment if desired.
Recognizing that situations won't always resolve as quickly as we'd like them to is also an important part of understanding methods for healing after being hurt by someone we love – no matter how much time passes, there will often still be leftover hurts that need release or resolution along the way (e.g., in conversations or other resolution attempts). Knowing this ahead of time helps us prepare mentally and emotionally for setbacks/feelings that might arise during this journey – so even moments where progress feels slow may still provide opportunities for growth when taken in stride!
Making a Commitment to Yourself
Making a commitment to yourself is a key step in the process of healing after being hurt by someone you love. This can be a difficult thing to do because, often times, after suffering a betrayal or hurtful words, we may feel stuck and not know how to deal with our pain in a healthy way. But beginning the journey back to health begins with you and your willingness to work through your emotions.
Start by taking an inventory of all the emotions that have been weighing on you since the event happened. Writing them down in either a journal or through drawing can help in understanding those feelings and recognizing where they come from within ourselves. I also recommend talking about it with friends or family if it helps make you feel heard and empowered to move forward in some small way; but don't forget that much of this part of the healing journey needs time (and patience!) focused solely on yourself.
Maybe make some commitments that help remind you that despite the pain from being hurt, there are many things with which we can still treat ourselves with love and kindness; like:
Committing moments of self-care throughout the day.
Finding new hobbies which bring joy.
Saying "yes" more often to try something new even if it's scary at first (and it will be!)
– any little steps go a long way when affirming your own worthiness when healing from difficult experiences.
Learning to Forgive
Learning to forgive the person who hurt you is often the most difficult and essential part of the healing process. It doesn't mean what they did was okay, and it certainly doesn't mean you're letting them off the hook – instead, it means that you have worked through your pain and have become emotionally detached from them. You recognize that they will never be an integral part of your life again and more importantly; you don't need them in order to be a whole, complete person. Making peace with this reality can open a pathway for tremendous growth in your life, but only if you are willing to commit to true healing.
Forgiveness is something that must come from within and it requires a full understanding of what has transpired, along with an honest reflection on what it means for your own growth. It starts with accepting where you are today because there's no way around it – you're here now and unless you're able to forgive fully and completely, no amount of "positive thinking" will move you forward. This isn't just some intellectual practice, either; forgiveness has been scientifically linked to mental health improvement as well as physical well-being, so there are legit reasons why this must happen!
In addition to understanding the practical benefits, the spiritual implications cannot be overstated either – allowing yourself to let go of pain and hurt invests in compassion that can extend far beyond just influences us right now. Learning how to forgive after being hurt yields multiple rewards on multiple levels, so take time today. If you haven't already done so, start exploring some ideas on how best to forgive not only those who hurt us, but also ourselves.
Taking Action to Move Forward
I've been there – when it feels like your world has been turned upside down and you don't know how to pick yourself back up. When you're hurt by someone you love, it's easy to slip into a deep and dark place.
But here's the thing: you don't have to stay there. Yes, it will take courage and effort to begin taking action and start the journey towards healing, but I'm here to assure you it can be done. With the right approach and mindset, you can start to find your feet and gain the strength to move forward.
Making a Plan
Sometimes, the most difficult part of moving on is figuring out where to start. That's why when it comes to healing after being hurt by someone you love, it's important to make a plan for taking action.
For starters, it's best to take some time to reflect on the hurtful situation. Being honest and thoughtful about how it felt will help you recognize any thought patterns or beliefs that may no longer be serving you. Once you've done that, the next step would be making a list of actions that can help you let go and move forward in your life with more ease and clarity.
You could begin by allowing yourself moments of peace every day, doing things like stretching and spending time outdoors in nature or meditating. These activities can help bring balance back into your life and strengthen your resilience even further. It's often beneficial to reach out for support; having someone to talk through these topics can make all the difference! There are also books, support groups and self-help guides available online from experts in their fields; these could provide helpful suggestions for going beyond just identifying what wasn't working in the past but also creating something new moving forward!
Making a plan is useful because it gives structure to a journey that can feel overwhelming at times. Establishing short-term goals can be powerful motivators during times when progress feels too slow; celebrating those achievements along the way will keep your spirits high too! Remember – healing after being hurt by someone you love is a continual process, so always ensure self-care days are built into your plan as well – being kind to yourself always helps with finding joy again!
Establishing Boundaries
Establishing boundaries sets the groundwork for recovery and healing. We can't take back what happened in the past, so it is essential to allow yourself to re-enter a place of personal power. Part of moving forward involves reinforcing self-respect and valuing your emotions above other people's desires or demands. That may mean saying no to things that don't make sense or feel right.
Once you have identified your needs and personal values, create boundaries that align with them. This could look like distancing yourself from emotional triggers, limiting contact with certain people, or removing yourself from difficult situations completely, if necessary. Saying no can seem hard in the moment, but by taking back control of your emotional life you are actively contributing to your healing process. Additionally, it will help create a protective barrier against future hurtful experiences in relationships.
It is also important to remember that boundaries imply a two-way respect; reach out for help when needed but also be mindful about intruding on other people's space – avoid expecting them to read your mind and let them know when you need support too! Living life from a place of healthy rules is empowering and will ultimately result in stronger relationships with family members or friends who respect your needs first before their own.
Taking Time to Reflect
While taking time to reflect on the hurtful event and the person that caused it is an important step in healing, it should not be done alone. It's okay to reach out for help from friends and family or from a counselor or support group – these are valuable resources when you're ready to make your journey.
When you first set out on the path to healing, it's essential to remind yourself how strong you are and how far you've come. Along the way, don't forget to ask yourself some important questions about what happened:
What did I learn from this experience?
How can I take action and make positive changes from here?
And, most importantly, how can I hold on to the hope of a brighter future?
Answering these questions can be difficult, and many people find it helpful to look within themselves for guidance. Prayer and meditation have helped me personally connect with my inner wisdom, obtaining clarity on difficult decisions. At other times, particularly when fear steps in as we work toward a resolution of our issues and prepare for a new chapter in our lives, calling upon energy healers such as Reiki practitioners can provide spiritual guidance with regards to processing emotions such as sadness or anger that have been suppressed due to toxic relationships we have endured throughout our lives up until now.
Above all else, remember that time is an essential element for healing, so be compassionate with yourself when processing your experiences and taking action towards a brighter future!
Finding Joy and Gratitude
When I was first hurt by someone I loved, I felt like I wouldn't ever be the same. I had no idea what to do next. But over time, as I worked through my pain and hurt, I started to discover joy and gratitude again. I was reminded that life was too short to give up on the positive moments. That's when I started my journey to healing.
Celebrating Small Wins
As you continue to move forward on your healing journey, it's important to savor the small wins that come your way. Find joy and gratitude in all that is positive in your life, no matter how seemingly insignificant it may be. That feeling of enjoying a hot cup of tea in the morning or a hike in the forest during sunset – made even sweeter by the birds calling and chirping – are win after win!
When life gives you those beautiful moments, take a pause and thank it for blessing you with those momentary wonders. Give yourself permission to pause, rest and appreciate those little things which bring joy into your heart. When we learn to be present in those special moments, we can fully appreciate their beauty rather than rushing past them without really noticing them at all!
Finding joy in small victories also helps us create happiness from within. Take pride in everything you accomplish as each step towards your healing will bring much-needed comfort, relaxation and ease into your life – something which can deeply restore us after facing trauma. Celebrate each small milestone as well as each accomplishment – no matter how big or small – because it will speak volumes about how far you have come since embarking on this journey of healing after being hurt by someone you love. Remind yourself often that although recovery may take some time, these wins will eventually move mountains – and soon enough these mountains won't be there anymore!
Focusing on the Positive
It's so easy to stay stuck in the negative, and to focus on everything that's wrong after being hurt by someone we love. We ruminate on what happened, why it happened, and how unfair it is. We can get caught in a rut of "what ifs" and constantly playing over and over what happened in our minds.
But, here's the good news – we do have control over our own thoughts! When those negative thoughts start creeping up again and you find yourself ruminating on the past, it's important to snap out of it and refocus your thoughts on something positive.
Start by recognizing how far you've come in this journey of healing after being hurt by someone you love – no matter how small the progress may seem! Acknowledge all your accomplishments: you cut off contact, got support from friends or family, took care of yourself through self-care activities like exercising or relaxation techniques. Celebrate each one – every win matters!
By instilling more moments each day where we're grateful for what went right instead of dwelling in what went wrong will help us find joy again and break out of constant negative thinking. Think about all that is going well or that you are grateful for; a kind friend, a job you love (or once loved), good health, beautiful weather… the list goes on. Make time throughout your day to appreciate all these positives instead of ruminating over the bad. Results may be subtle at first, but with practice, this habit continues to grow into an increased ability to experience joy as part of our daily life again!
Practicing Gratitude
Practicing gratitude is a key part of finding joy and peace in life. Mindfulness and mediation have become more popular in recent years, but for me, gratitude is the most powerful tool to help you find your feet again.
There are a lot of reasons why practicing daily gratitude can help when healing from a hurtful experience. It can give you an opportunity to focus on what you are grateful for, rather than what has happened in the past. It's also a way to recognize all the amazing things that have come out of your experiences, even if it might not have been easy along the way.
Engaging in an intentional practice of gratitude isn't about ignoring difficult feelings or putting on rose-tinted glasses—it's about being aware of how far you have come and how much there is to be thankful for in spite of everything that may not have gone well. Gratitude is scientifically proven to bring joy and contentment into our lives, as it helps us become mindful of all the good people, places and things that bring us love, joy and peace.
One way I've found to cultivate strong gratitude practices is through journaling or writing down five things I'm grateful for everyday. These five simple statements can open up a powerful source of self-love and inner peace when we take the time to honor them with our words. Even if I feel like I'm stuck within my negative emotions at times, I always find that my practice of writing down five things I'm grateful for brings me comfort while giving me a new perspective on life after being hurt by someone else's behavior towards me or something they said or did that was wrong.
It's important to remember that creating space for joy isn't always easy after experiencing such intense pain or grief but by deliberately practicing daily acts of gratitude, you can start rebuilding your own sense of joy and happiness as your journey towards healing takes its course.
Conclusion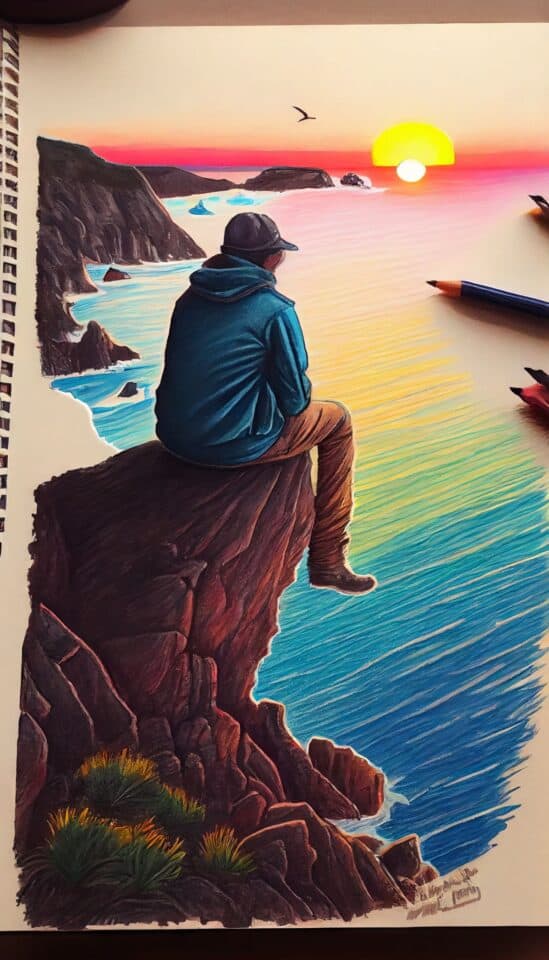 It's been a journey and I'm happy to say that I've come out the other side. I've been healing and rebuilding my life for the past few months, making new connections, embracing joy, and coming to terms with the past. I'm looking forward to the future, and I'm hopeful for what's coming. I've taken my pain and use it to learn and grow. I've found it in my heart to forgive and to love again.
Today marks a new beginning for me, and I'm ready to take the next steps on my journey:
Continue healing and rebuilding my life.
Make new connections.
Embrace joy.
Learn and grow.
Forgive and love again.
Reflection and Summary
As I look back on my journey of healing from the hurt inflicted by someone I love, it's amazing to think of just how far I have come. What started as a dark and hopeless period has become one filled with self-discovery and possibility.
I have learned that in order to truly heal; it is necessary to move through the hurt and pain that comes with being hurt by another person. By taking the time to process what happened, reflect on my feelings and acknowledge my experiences without judgment or shame, I began to feel less stuck in my initial pain and more emboldened by what I now understand about myself.
More than anything, this experience has taught me that no matter how devastating the hurt or betrayal can be, healing is possible – sometimes through unexpected means – and working towards self-healing does not make me any less strong or resilient for trying. With every step of growth I take in this process, I become more confident in myself and my ability to use these experiences as a source of insight and strength instead of fear or guilt.
Looking forward, this journey will never be "over" because even when no return is asked for nor offered from those who we loved who hurt us, there may still come lessons meant just for us – reminders of our strength even when we don't realize it at first; reminders that it's ok for something to be over without having had closure; reminders that transformation can be found always right where we are; reminders that love always wants our best interest, even if seemingly disguised as sorrowful losses along the way.
Moving Forward with Hope
Now that I've discussed the steps to take in order to start healing after being hurt by someone you love, I want to finish off by talking about moving forward with hope.
Everyone's journey is going to be different, and there will be different things that work for different people. The most important thing is to believe that you deserve to heal and to find ways to nurture yourself through this journey. Allow yourself time for self-reflection so that you can truly understand what you need without worrying about how long it will take or how much it will cost – restoration of your spirit comes first.
Surround yourself with people who are understanding and compassionate, yet challenging enough to encourage growth. Don't be afraid of seeking counseling or specialized therapies if they seem helpful; sometimes hearing an outsider's advice can bring clarity and direction. Lastly, don't forget the power of creativity – do something creative like painting, writing poetry or gardening to process feelings and thoughts as they arise within you! Experiment with different forms of art until you find something that works for you.
While your journey may have difficult moments, remain open to the possibility of reclaiming hope in a brighter future where healing can happen for everyone involved. Just remember one step at a time – before long, you'll find your feet again!