I was given We Choose Virtues NIV Parenting Cards to review in exchange for an honest blog review. That in no way shaped my opinion of this product. We Choose Virtues actually makes hard for me to know where I want to start because they have so many amazing virtues to their program. They offer a wide range of tools to help  a parent or even a teacher with teaching kids many of the virtues that seem to be missing in our world today.

I have always stressed that I'm a strict parent. I'm strict because my Mom raised me that way herself. She used what was considered "Old School" teaching even back then, and it's even more so today. I've been trying to find a balance between her overly strict method and being a bit more flexible with raising my kids. I still fall into the overly strict far more than I even would like. That's why I am pleased that I had the chance to be a part of the We Choose Virtues review panel. I was given the NIV
Parenting Cards
 to review. Honestly when I was given the approval I didn't really think it was going to be a big deal. After all, how can a stack of cards really change our life?
Umm…it's safe to say, I wasn't the one with the last laugh in this case at all!
When I got these cards and saw everything that was jammed onto each of the 12 cards my opinion changed. These cards are great for putting on the frig, the bathroom door, the front door, the bedroom door, and anywhere else you can think of putting them to make them a constant reminder. You see people thinking hard about how they are  placing that The Elf on the Shelf
all over their house at Christmas time, but this is better in my book. The reason it is better is because it gives the kids something to strive to be better at throughout the week (I choose a card and focused on it for a week.) Plus it gives them a Bible verse that they can memorize too. Then the child who does the best for the week gets a small surprise of some kind. Delbert struggles with being patient the most out of all of our kids. We've called him the "Little Bulldozer" because he'd just assume run you over as to look at you when he wants to get somewhere. I can't begin to tell you the amount of times he's caused Zeva to run into the wall head first. It's amazing Zeva is still in tact completely!! (It worried the dickens out of me for a long time.)  This patient card gave us some pointers on ways to help with that issue. We also were given some downloadable materials to use as  well that comes with a coloring book. The downloadable materials includes Teacher's Handbook, Family Character Assessment, Coloring Pages, Butterfly Award, and Sing-along-Song Sheets and it can be purchased by itself for $7.99. It also comes included FREE with the Homeschool Kit (minus the Sing-along-Song sheets.) This bundle is very helpful to have. I loved having it to use with the cards.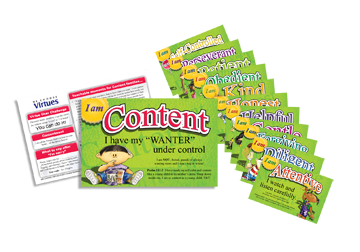 The 13 double sided parenting cards are well made and will last through many uses. It withstands kids holding it and doing what kids do with things like these. I think they are well worth keeping on their current locations because they are a nice reminder of the traits we should strive to have each day. You can purchase these Parenting cards to help with raising your kids ages 3-18 for $38.49. You can find out more about these products by visiting their
website
. You can also connect with them on
Facebook
, Pinterest, and their blog.
Do you feel this would help your kids learn these valuable lessons? 
Be sure to check out my fellow Schoolhouse Review Crew's Reviews by clicking the picture below.