Many people say that teaching Math is one of the hardest subjects to teach. My boys love Math! However, there are still areas where it is challenging to them. One of those areas has been learning their multiplication tables with ease. I don't know of to many people who memorizes these factors with ease. Lucky for us, there is now a program that helps ease the stress of memorizing multiplication. The Trigger Memory Co. provided us with the digital version of  Times Tales for us to use in our homeschool.

About Times Tales
Times Tales is a unique program to help students learn their upper times tables in a snap. They use the Trigger Memory method to help kids with the process of memorizing the multiplication facts. Trigger Memory Co. offers both a digital version and a DVD version.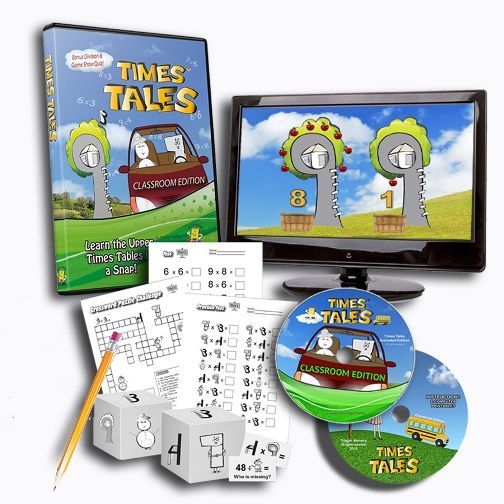 Our Review
We got the digital download version of  Times Tales. I have tried various techniques to get the boys to know their multiplication by heart. We've done flash cards, writing them several times, online games, and a few other systems. I didn't truly have high hopes for this program working either.
Times Tales is a program that uses the "memory peg" method to help students learn. Their 30 minute videos are filled with sayings that help kids to recall the answers. Delbert actually had a hard time remembering the sayings and for him it was just extra "work." However, Zeva and Jimmy were able to grasp the sayings with simplicity. I'd say having two out of three kids grasp this concept and being able to use it was beneficial to give it a try.
With this set you are also given worksheets, game cubes, and tests for the students to complete. I liked how they created sheets with the characters from the videos and also sheets with just the numbers on them. I was able to give the kids timed tests using both methods. I must admit they did better on the sheets with the characters than without them. They were able to use the flash cards on each other too.
Since Delbert was struggling a bit with this method, I had him write out the sentences on his flash cards. I also had him write the sentences a couple times too. Since he's a numbers kind of guy it truly didn't help him at all. If anything, I think this added to his frustration over memorizing his multiplication. I decided for him it was better to let him memorize his information his way.
Overall, I feel that Times Tales is a program worth trying with your kids. It is filled with lots of different resources to help making learning fun.
How Much Does It Cost ?
Times Tales is quite affordable. Currently, if you get the Times Tales DVD Digital Download set while it's on sale it's only $19.95 (regular price is $21.95.) If you get the Times Tales DVD set it's $24.95. This system is designed for any child who needs a different way to quickly learn their times tables.
Learn More

You can also get this Free Times Tales Sample 9's Download! You can also visit them on the Times Tales website and join their conversations on  Facebook.
Can you see how Times Tales would help your kids learn their times tables quicker? 
Don't just take my word for it!
Visit the other Schoolhouse Review Crew's posts and read their reviews by clicking on the image below.