The perfect holiday destination ought to deliver a memorable adventure, fulfill your sense of wonder and create memories you will forever cherish. Kenya, an Eastern Africa country, delivers on all these and so much more.
It is home to the best national parks and game reserves in Africa. These include big names such as the Masai Mara Game Reserve, the Amboseli National Park, Hell's Gate National Park, Lake Nakuru National Park and more.
Kenya is also the best destination for Big 5 African safaris, panoramic views, and white sandy beaches. Diani beach, located along the Kenya Indian Ocean coastline, has been repeatedly voted the best beach in Africa by the World Travel award. A safari in Kenya is worth every penny.
In this article, James, a safari guide for AjKenyasafaris.com, shares the top five remote but breathtaking destinations in Kenya that will leave you desiring to come back. Let's dive in.
1. Masai Mara National Reserve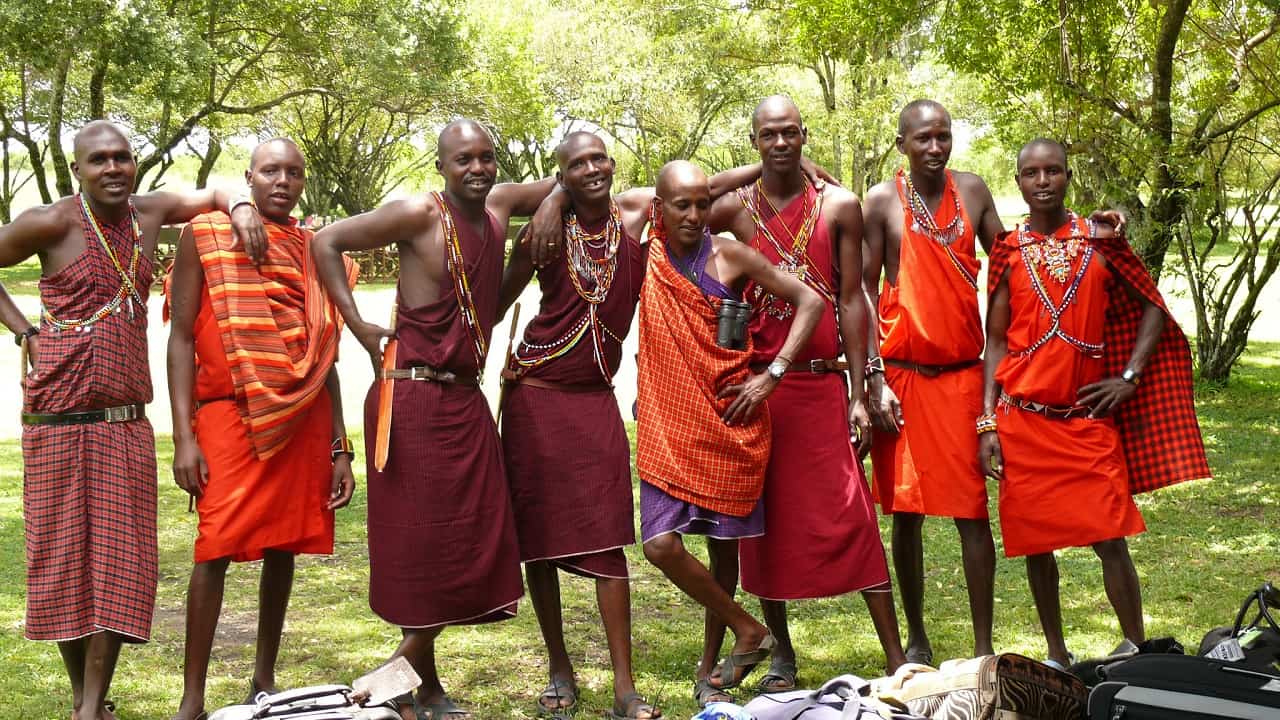 The Masai Mara National Reserve, also known as the Mara, is a large national game reserve famous for the great migration and its large population of wildlife. It is located in Narok county, approximately 7 kilometers from Nairobi city.
The Mara is famous for its large population of wildlife, the big 5, the Mara crocodile, and mammals and bird species that cannot be found anywhere else in the world.
When most people hear of a safari in Masai Mara, the famous great wildebeest migration comes to mind. This wonder of the world attracts over 1.5 million tourists to the country every year.
Getting a front row seat to witness this phenomenon is exhilarating. You get to see over 1.3 million wildebeest, zebra, Thompson gazelles, Impalas, Grant's gazelles, and elands all moving in one accord.
That journey is especially challenging for them when they get to the Mara river where they battle against raging waters and hungry crocodiles.
To witness this phenomenon, plan your Masai Mara holiday between July and November. This is the time when the migrating herd will be on the Kenyan side of the Mara-Serengeti ecosystem.
Ideally, book your tour with Nairobi based travel agencies such as masaimarasafari.in, whose personnel are born and raised in the country.
Their guides are Kenyan born and raised. They ensure you are in time to witness the dramatic Mara river crossing and get you the best viewing spot of this unrivaled experience.
At the Mara, you can engage in a few activities which include game drives, hot air balloon rides over the grasslands, bush dinners, cultural tours, walking safaris and more. This wonder-filled national reserve has won the African leading national park by the World Travel Awards (WTA) six times in a row.
The beauty of this natural jungle has inspired several Hollywood movies, for example, the remake of the Lion King in 2019. Another film that features this adventure filled land is Blood River Crossing which shows the dramatic crossing of the Wildebeest over the Mara.
The best time to visit the Mara for the general wildlife viewing is June through October. For the great wildebeest migration, the time shifts to September through October.
To get to the Mara from Nairobi city, you can either choose to drive for 5 to 6 hours or book a domestic flight at Wilson airport which lasts for 40-45 minutes.
2. Mida Creek
Located in Watamu, the land of white beaches, dolphins, and snorkel enthusiasts, Mida creek is a must visit tourist destinations. It lies 15 km from Watamu and 30 km from Malindi.
Once there, you get to access it by using log canoes, or motorboats and then a walk over a boardwalk. This experience has had many stepping out of their comfort zone, but joyful that they did, once they get to experience it.
Mida creek alongside Arabuko-Sokoke Forest is recognized as a UNESCO Biosphere Reserve. Here you get treated to viewing different species of both flora and fauna all within the mangrove forest.
There are various fish species to be found here including jacks, snappers, rabbitfish, emperors, barracuda, etc. Large populations of aquatic birds, 65 species to be exact, both local and seasonal distant migrating birds congregate here too.
Some of these birds include Sanderling, Sandpiper, Whimbrel, etc. While here you can visit the Sita Community Snake Park as well as learn about the crabs and fish farms in the area.
To get the full experience, you get to glide over the waters in log canoes or motorboats through the mangroves and take in the melodies of nature. A trip here also exposes you to the culture of the locals and delectable cuisine.
As the day bids you farewell, you get to enjoy a mesmerizing sunset as it paints both the sky and waters in golden hues.
3. The Great Rift valley
The Great Rift Valley is a continuous geographic trench that runs from Lebanon, through Kenya and all the way to Mozambique. It is a dramatic sight to behold especially when viewed from a high point on the Nakuru-Mau Summit Highway.
While interesting to view from afar, there are some tourist attractions within the valley that are a must-visit. Volcanoes both dormant and active, lakes, and impressive land formations characterize this valley.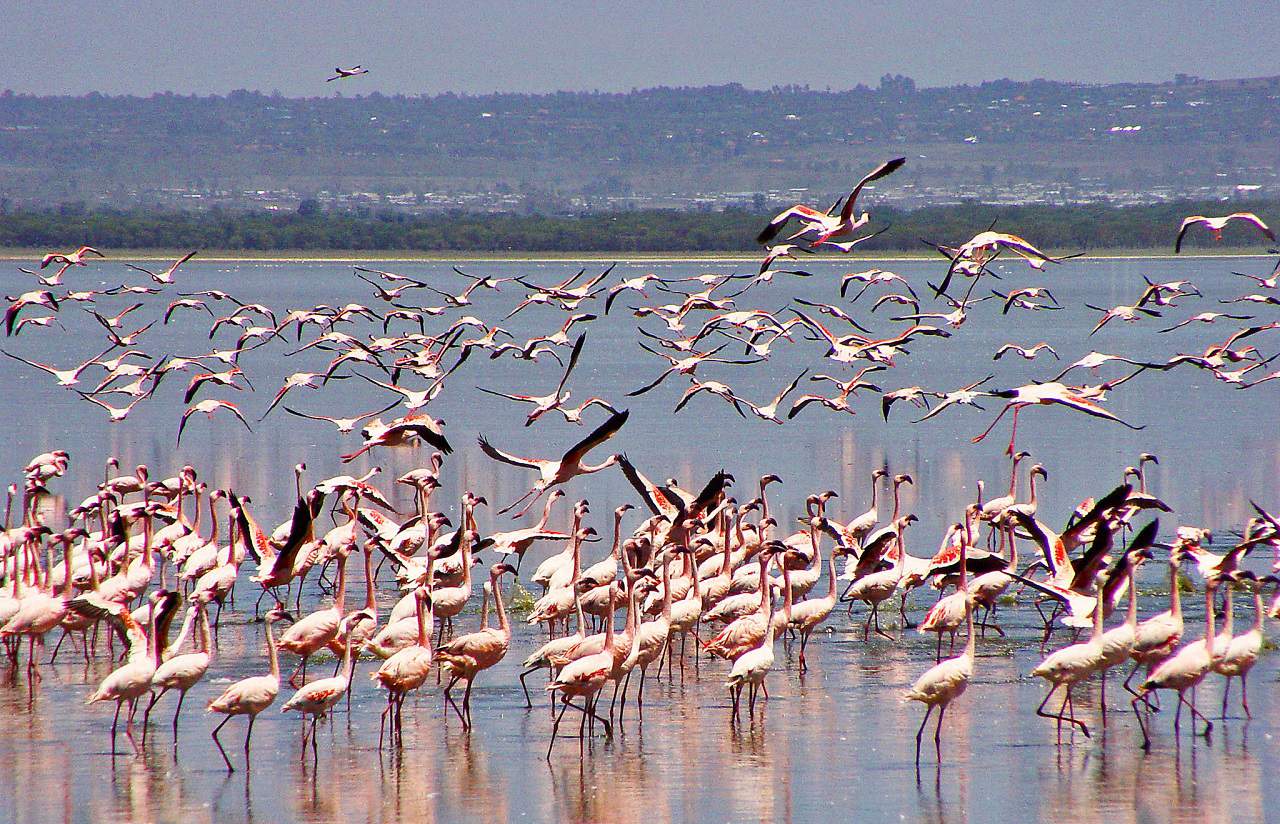 Since this valley isn't a protected area as a whole, we will mention a few protected attractions in the area which are a must-visit. You can choose to explore the rest of the valley yourself or enlist the services of a tour company.
Lake Nakuru takes top spot as the land of pink flamingos where thousands of them nest along the lakes' shores, a pure delight to witness. Lake Nakuru National Park, which borders the lake, serves as a sanctuary to protect the flamingos, giraffes, and both black and white rhinos.
Another must visit attractions on the floor of the Rift Valley is Hell's Gate National Park. This park's magnificent sceneries which include unique gorges and cliffs characterize it accompanied by a variety of wildlife.
The wildlife to be found here includes lions, leopards, cheetahs, Thomson's gazelle, hyena, klipspringer, antelope, etc. While the birds include, vultures, lammergeyer vultures, Verreaux's eagles among others.
Here you get to hike, ride bicycles and motorcycles, and even camp. Lake Naivasha is close by and several lodges surround it including the prestigious Sawela Lodge.
The best time to visit Hell's Gate National Park is June to March because of the presence of little rain thus no flash floods within the park.
These parks' unique features have also graced our screens in the form of movies. For example, Angelina Jolie's Tomb Raider and the NAACP award winner, The First Grader, were shot here.
4. Olpejeta Conservancy
The Olpejeta Conservancy is renowned for its passion and drive towards conservation and preservation of our endangered wildlife. It is nestled on the beautiful Laikipia plains.
The biggest tourist attraction in this conservancy are the two last remaining white rhinos on the planet. Their extinction is due to uncontrolled poaching of their horns and this conservancy preserves the last two.
This conservancy is the only place where you can see a chimpanzee in the country. The passion shown towards these animals is extended also to their
visitors, because here, you do not only get to see the animal, you also get down and dirty as the rangers do.
You get to learn the art of tracking lions by joining their experienced trackers in an escapade. You also get to come up close with an elephant and even smell its breath, so to speak.
As if that isn't enough, you get to play hide and seek with their trained sniffer dogs, only you hide and they seek. You can also choose to take a horse ride through the predator-free northern white rhino enclosure which is a better experience than using a ranger car.
Activities here are never-ending because you can even choose to go cycling and get a feel of the beautiful Laikipia landscape. After the ride, you can also choose to engage in a non-technical rock-climbing session.
The Olpejeta Conservancy, unlike many other conservancies or national parks, offers a night safari ride. Nighttime is when the wild comes to life in the African jungle and, here, you get to witness it.
The Conservancy's efforts are praised by many and have seen them win three Private Conservancy of the Year Ecowarrior awards, and many more. To get to the conservancy, you can journey from Nairobi for 3-4 hours' drive or use the shorter 6.5km distance from Nanyuki airstrip
5. Wasini Island
Wasini Island is a gem in coastal Kenya. This small island lies approximately 3 hours from Likoni ferry, and roughly 2 hours from Ukunda town.
The Island is parked with adventure and promises a memorable Kenya safari and beach holiday experience to its visitors. It is especially popular among snorkel enthusiasts thanks to its blue waters surrounded by hundreds of colorful fishes.
Other tourist attractions here are the humpback whales and dolphins seen along the shores. The dolphins are easily spotted as they show off their swimming skills to the onlookers, a must-see phenomenon.
The coral gardens of Wasini is another must-visit destination while on this Island. These huge boulders are left behind by the gradual receding of the ocean and are accessible by walking on a boardwalk through a mangrove.
Summary
Touristic destinations in Kenya such as the ones listed above leave their visitors itching to come back. The country continues to offer more in terms of culture and cuisine. To get the full experience, contact local tour companies such as ajkenyasafaris.com who go above and beyond to give their clients a memorable holiday experience.