Why am I writing an entire article about a sexy French Maid sex costume? Well…
Del has been under a lot of stress lately, and it's playing its toll on his health. When that happens, sex tends to take a backseat in our marriage. That's not to say we don't have a healthy sex life! We strive to maintain that in our marriage, but it's not filled with as much passion when we go through the rough patches in our lives together. Our love is still just as strong, and our relationship is there too, and we know sex is important.
When I was given the chance to review this Sexy French Maid costume, I knew I couldn't resist getting it. I wanted to give Del the sexy French Maid sex he's always wanted. Besides, I already had one maid outfit that seemed to drive him crazy, but to get a totally different one was a nice treat.
What's The Deal With Sexy French Maid Sex Costumes?
Once Del told me some of the histories of French maid outfits and why he finds them so utterly appealing, it was a bit hard not to feel like I was starting to become the main character of my own Fifty Shades of Grey, especially since Del has a very controlling possessive streak in him already. (Yes, that is one of the things I love about him most. It creates a fire within me that only he can put out.)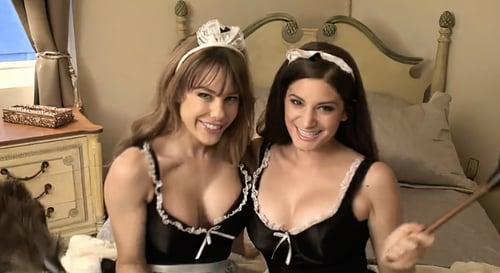 I couldn't resist trying this costume on when I first got it because I knew it would drive him crazy. Since it had been a few days since we could do anything, I knew I would create pure torture for him. I was right; he was on me before I was even finished getting the full outfit on.
Of course, I had to become his little submissive maid. Something about being a maid makes him think of me as his little submissive woman. I love it. I felt like we were cleaning up our marriage because we could finally have passionate sex. He forgot about everything and everybody for a little while. His other brain wouldn't let him do anything else.
I love when that happens in our marriage. We've been together off and on for over twenty years, and it's nice to know that we can still have those moments of passion and fire together. I joked with him, telling him that my looks have changed so much that we have to have the outfits to gain that fire, but I know we don't. It's just the outfits give me the extra confidence I need to come out of my shell with him.
This costume is nice and soft, and comfortable. It's well made. I love the fact that the apron and the hat are separate. If I decide to just sleep in the sexy little dress part, I can easily. It's actually rather cute by itself. I love the little ruffles at the top and bottom of this dress. I would highly recommend any woman of any size get this maid outfit. You can do that just by a click here.
Do you dress up for your significant other?