We were given the chance to review Learning Wrap ups new online program called LearningPallette.com in exchange for an honest blog review. That in no way shaped my opinion of this product.
LearningPallette.com is a program that is designed to teach kids reading and math online in a fun manner. There is two sections in this program. The reading portion is set up for teaching K-3 students. The math portion is set up for the teaching K-5 students. The way this online program works is a student will log into their account and choose which subject they want to focus on first.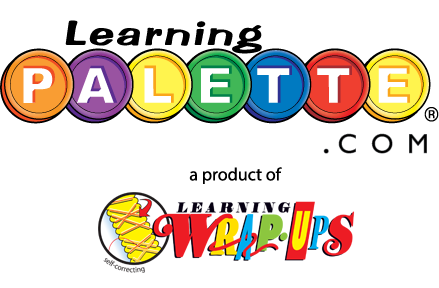 Once they choose math or reading, they are given a palette with 12 questions on it. Then they will use a color palette that is either solid or an open ring to answer their questions. Young students love being able to play matching the colors with the correct answer that goes the question. My son loved filling in the circles with right color.
The questions were just challenging enough to keep my child interested in doing them. However, he's also very smart and knew he got some of the answers right that the program kept telling him he was wrong and wouldn't let him match up the colors to the answers the first couple times we tried this program. I knew other bloggers were already talking to customer service about this issue so we waited and tried the program again later.
The next time we tried it, it worked beautifully. We used it for several hours because we were having so much fun going through these "card games" as we were referring to it. I went back later on that day to get a screen shot of the amount of palettes we completed that day to be sourly disappointed because it gave us NO credit for anything we did. All the hard work and time we put into doing these cards was not recorded at all. Talk about major disappointed kids! Kids LOVE seeing their progress, and knowing they can go back and finish it.
The concept behind this program is actually really awesome. I have read the reviews of my fellow Schoolhouse Crew for the physical products that Learning Wraps ups offers and they have received very high praises. I believe if I had the physical products it would have been a solid hit in our home too. Honestly, if the LearningPallette.com program technical issues were not there it would have also been well received. I do know that the staff is working diligently to fix these issues! I believe that they will have them fixed in no time.
I would still recommend this product to those looking for a reading and math product combination for students between K-3. (I do think it's a bit too amateur for my fourth grader.) You can purchase this program for $59.99 for up to 5 users. Since you are a loyal reader they are offering you a 20% discount by using the coupon code: HOMESCHOOL.
You can learn more about this program and their other physical products by visiting their website. You can also connect with them on Facebook and Twitter too. Be sure to check out my fellow SchoolhouseReview Crew's reviews of this program by clicking on the picture below.

Do you think your child would enjoy using this program?