Caring for your beloved pup can be a full-time job, and ensuring they get the nutrition they need can be challenging. This is because dogs have different nutritional needs than humans (of course). While giving your dog table scraps or human food may be tempting, it's important to ensure that the treats you make for them are balanced and nutritious. Creating new options for food & treats also helps to keep them from getting bored over their meals (a healthier mental mindset for your pup).
Fortunately, there are plenty of easy and nutritious recipes for homemade dog treats that your pup will love. From liver and peanut butter brownies to peanut butter banana muffins, these five recipes will tantalize your pup's taste buds and keep them healthy and happy.
Plus, making your own treats means you can control the ingredients, ensuring your pup gets the highest-quality snacks without added preservatives or fillers. So, grab the apron, preheat the oven, and get ready to whip up some delicious homemade dog treats—your pup will thank you!
Liver and Peanut Butter Brownies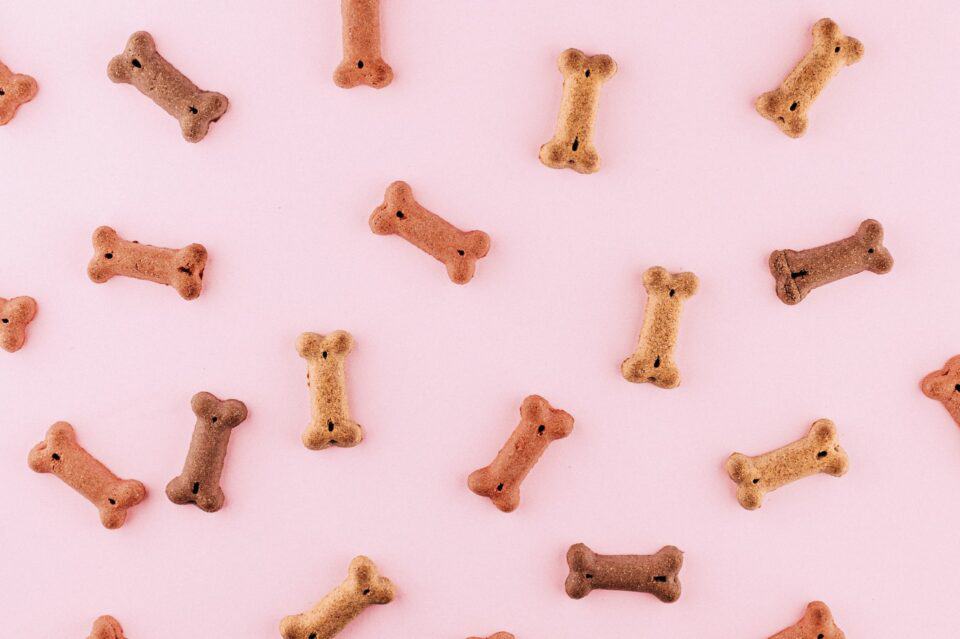 This classic dog treat is the perfect way to get some healthy ingredients into your dog. Plus, it's super easy to make and will only cost a few dollars.
These brownies are protein-packed and will leave your pup's taste buds happy and satisfied. Plus, they're made with all-natural ingredients, so you can be sure your pup is getting the best.
For these liver and peanut butter brownies, all you need is a few simple ingredients you probably already have in your pantry:
Eggs
Peanut butter
Wheat germ
Whole wheat flour
Cooked barley
Olive oil
Salt
Beef liver or chicken liver
Preheat the oven to 175˚C. Blend the liver in a food processor until it is completely smooth. Next, blend the eggs, peanut butter, oil, and salt until well mixed.
In a large bowl, combine the remaining ingredients, and then pour the mixture into the food processor and blend until the mixture is smooth and thick. Once the mixture is thoroughly combined, transfer it to the baking dish and bake for 20 minutes.
These brownies make a great treat for dogs of all ages and can be easily cut into smaller pieces to make them easier to eat if your pup has difficulty chewing. However, remember that these aren't meant to be fed as a main meal.
Sweet Potato Chews
Of all the dog treats you can make, these sweet potato chews are among the best. They're packed with vitamins, minerals, and beta-carotene, making them a nutritious and healthy choice for your pup.
These chewy bites are a great option if you have a picky pup, as they're almost impossible to resist. Plus, they're easy to make with just a few simple ingredients, so you can be sure they're healthy and nutritious.
For these sweet potato chews, you'll need the following:
Large sweet potato(peeled)
Preheat the oven to 120˚C and line a baking sheet with parchment paper. Using a sharp knife, slice the sweet potato crosswise into 1/4-inch-thick pieces, then split bigger slices in half.
Next, arrange the sliced pieces on the prepared baking sheet. Place in a preheated oven for 1 hour, then turn the slices over and bake for another 1 hour 30 minutes before turning off the oven and allowing the chews to cool.
Peanut Butter Banana Muffins
These peanut butter banana muffins are a healthy and tasty dog treat that can be made quickly and easily. They have a high content of protein and fiber, which is great for dogs with sensitive stomachs.
Plus, thanks to the banana, they also have plenty of vitamins and minerals, making them the perfect and nutritious choice for your pooch.
For these muffins, you'll need:
Rolled oats
Whole wheat flour
Natural peanut butter
Ripe Banana (mashed)
Egg
Honey
Baking powder
Water
Preheat the oven to 350 degrees Fahrenheit. Add the eggs, honey, peanut butter, and mashed bananas in a bowl and stir until they are thoroughly combined. Then add the whole wheat flour, rolled oats, baking powder, and water and continue stirring until it forms a dough-like consistency.
Leave the mixture for 15 minutes and stir again, then pour into different paper cases/ muffin tins. Bake for 12 to 15 minutes until the top is golden brown and a skewer inserted comes out clean.
The muffins can be kept at room temperature for two to three days in an airtight container or frozen and eaten later. This recipe uses banana, but you can substitute it with apple or pumpkin if your dog doesn't like it.
Peanut Butter and Oat Treats
These peanut butter and oat treats are the perfect choice for dogs that need an energy boost to stay focused during work or play.
They are packed with vitamins and minerals, including iron, calcium, and potassium, which play an important role in muscle and nerve function.
These peanut butter and oat treats are super easy to make and are completely homemade, so you can be sure there are no artificial ingredients or preservatives involved.
For this dog treat, you'll need the following:
Oatmeal
Peanut butter
Honey
Chicken bouillon paste
Pour your oatmeal into a food processor and pulse for like 8–10 times to chop it into smaller bits (oat flour). Next, add your chicken bouillon paste, honey, and peanut butter, then process it all together to form a dough ball.
Next, remove the dough from the food processor and place it on a piece of plastic wrap. Allow it to chill in the refrigerator for 30 minutes to an hour.
Preheat the oven to 350 degrees Fahrenheit. Roll the dough between two sheets of parchment paper to a thickness of ¼ inch, and then use a cookie cutter to cut out smaller portions; if you don't have a cookie cutter, cut out small pieces and roll them into balls, and press with a fork.
Place your cut-out dough in the preheated oven and allow it to bake for 10-15 minutes.
Dried Chicken Strips
These dried chicken strips are perfect for dogs with sensitive stomachs as they don't contain any grains or other fillers. They are high in protein and great for highly active dogs who need a boost of energy.
These dried chicken strips are super easy to make and can be used as a treat or given to your dog as a meal replacement. They can be dipped in yogurt or apple sauce or given to your dog alone. They're also good for dogs with allergies since they are free from preservatives and artificial ingredients.
For these dried chicken strips, you'll need the following:
Boneless skinless chicken breasts
Preheat the oven to 275 degrees Fahrenheit. Place two wire cooling racks on baking sheets. Next, cut the chicken into ¼-inch slices and place it on the wire racks.
Bake for 2 hours until the chicken is fully dehydrated, and then store in an airtight container in the refrigerator for up to 2 weeks until you're ready to feed them to your dog.
What are the Health Benefits of homemade dog treats?
Making dog treats at home allows you to tailor them to suit your dog's allergies and nutritional needs. For example, if your dog is recovering from a leg injury, while the best dog leg wraps can help them get better faster, adding the right nutrients to their favorite treats can speed up the process even more.
Treats like the "Peanut Butter Banana Muffins" discussed earlier are rich in protein and fiber, all essential nutrients for building body tissues in the muscles.
Making homemade dog treats is also a great way to save money. They are incredibly cheap to make, and you can easily freeze them and store them for later when you are short on time.
Making your own dog treats is a great way to show your dog how much you love them. They will know they are receiving treats you made with love just for them.
Wrapping up
Dogs are our best friends and deserve to be treated like royalty. Treats are a good way to reward your dog and tell them how much you love them.
From liver and peanut butter brownies to peanut butter and oat treats, these five recipes are some of the best options to provide your furry friend with the nutrition and love they need.