History is one subject that I honestly could never get excited about learning or teaching to my kids. The ONLY assignment I enjoyed doing when I was growing up was a report on Abraham Lincoln. I was thrilled about having the opportunity to review YWAM Publishing's Heroes of History – Abraham Lincoln book along with the Heroes of History Unit Study Curriculum Guide with my kids.
About Heroes of History- Abraham Lincoln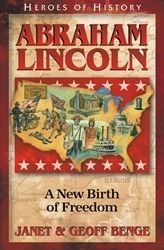 The Heroes of History Abraham Lincoln: A New Birth of Freedom book is about the full history of Abraham Lincoln's life. It is a book that was written for readers 10 years old and older. It is filled with true stories of his life.
About Heroes of History Unit Study Curriculum Guide
We were also given the downloadable Heroes of History Unit Study Curriculum Guide for Abraham Lincoln to go along with the book. The guide is filled with a brief biography of Abraham Lincoln. It also has plenty of questions for the readers to answer to help them remember the information they've read. It also comes with quotes from these famous people in history. There are also suggestions of things we can do to help them remember the material as well. The study guide was filled with a lot of other things too.
Our Review
Although, I was thrilled to be able to review this material. My sons weren't as enthused as I was. So, I recruited my mother-in-law to use some of her creative juices to help them be eager to learn more about Abraham Lincoln. She readily accepted the challenge.
She took the book and read it. She didn't feel that it was overly engaging for Jimmy to read, but she did read it. As an adult, she found a great appreciation for his biography especially with the current state of our government affairs.
She took some of the advice from the study guide and had Jimmy make up his own binder filled with information about Abraham Lincoln's history. He had a lot of fun finding out information about him through these activities. He also was proud of his creations he made with her. As he was making was the folder, she was telling him stories from the book. As a result, he learned many lessons about Abraham Lincoln. We finished up the assignment by watching an Abraham Lincoln biography movie.
When they showed me what they had to do and his finished project I was quite impressed. I read the beginning of the book too and could see why Jimmy wasn't wanting to finish reading it too. To me, it was a lot like a history book. I'm glad that we were given the study guide to review too because that made the book worth having.
I like products that give the facts that students need to learn, but also suggestions of how to make learning that information fun and how it relates to our current lives. This book and study guide combined was a perfect fit.
Learn More About YAWM Publishing
You can learn more about YAWM Publishing by visiting their website. You can connect with them on Facebook, Twitter, Pinterest, and even check out their blog for more news.
Do you think your kid will like this kind of learning style?
Don't forget to see what the rest of the Schoolhouse Review Crew thought of their Heroes of History products by clicking on the image below.