Math is one of my favorite subjects to teach. I am an advocate of using mental math as much as possible. However, one aspect of Math that always stumps me is fractions. Fractions are the part of Math that is like a huge kink in the wonderful system. I was thrilled when we got the chance to review the Digital Pack of Epsilon from Demme Learning's Math U See as part of the Schoolhouse Review Crew.

Demme Learning
Math-U-See is a program that uses multi-sensory style teaching. It also is designed in such a manner in which the instructions are ideal for one on one or small group teaching. Children are able to learn at their own pace. Kids can advance or fall back based on their level of expertise with the Math concepts.
We were  blessed with the chance to review the physical set of the Epsilon learning system. It was nice to be able to give Jimmy the DVD, textbook, and his fraction cards and have him feel confident in doing his lessons on his own. As a parent who struggles with fractions, it was nice to have the instructors edition break down how my students were to get their answers so I could readily assist them where he made his mistakes.
We were also given the digital version of the Epsilon Level he was able to do this program everywhere on his laptop using the Chrome or Safari browser. The Digital Packs  each come with the instructional lessons, instruction manual, and songs. There also other online resources included with the digital pack. This is like having an online Math class for fractions completely at our disposal. Considering, I'm having issues with teaching fractions properly, this is a lifesaver for me.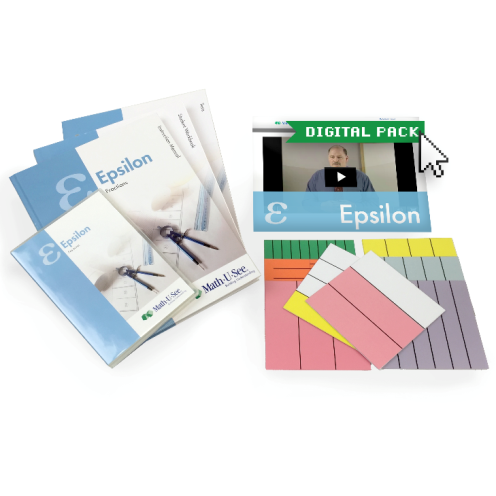 Jimmy stated that this instructor made learning fractions a lot easier. Delbert couldn't resist watching the digital instruction videos either. They were engaging and straight to the point.
The fact that the instructor recorded the lessons while he was in a live class helped my kids to feel like they were learning with fellow students. For some reason, that makes a difference to them. They were actually yelling out answers like they were competing against fellow students. While Jimmy was watching his class, I instructed Delbert to work on something else altogether, and the fraction class was so entertaining to Jimmy that Delbert couldn't resist the urge to watch it himself.
As you can see from Jimmy's work, he did rather well with his assignment. He liked the fact that he could replay the videos if he found that he was struggling with a concept and capture the details that he may have missed.
More Information about Math-U-See
Demme Learning Math-U-See has levels for all grade levels of Math. Kids can start with the Primer level and work their way up to the PreCalculus Level. The Digital Packs start at $31.00 and go up to $61.00 for a year's worth of access.
You can learn more information about Demme Learning Math-U-See by visiting their website. You can connect with them on Facebook, Twitter, Instagram, and YouTube.
Do you think your kids would benefit from this program? 
You can read more Schoolhouse Review Crew's reviews by clicking the image below.