Frozen in Sapa
If you believe that a tropical country has sunshine throughout the year, you definitely get it wrong. Far in the North of the country and at the highest places, snow falls on the coldest day of Vietnam winter, on December and January. The reason for this phenomena is because of the position of these areas which is on high mountain (thousands meters higher than the sea levels) and nearby the border with China which make it's more like the temperate weather which is cool in summer and a little snowy in winter.
The most famous place in Vietnam for remarkable snowy days is Sapa – a world-known small town in Northwestern Vietnam. This town small town is the gate for anyone who want to conquer the Fansipan Peak – the Rooftop of Indochina, staying at that high position help Sapa become one of a few places in Vietnam where people can see the snow at the coldest day of winter.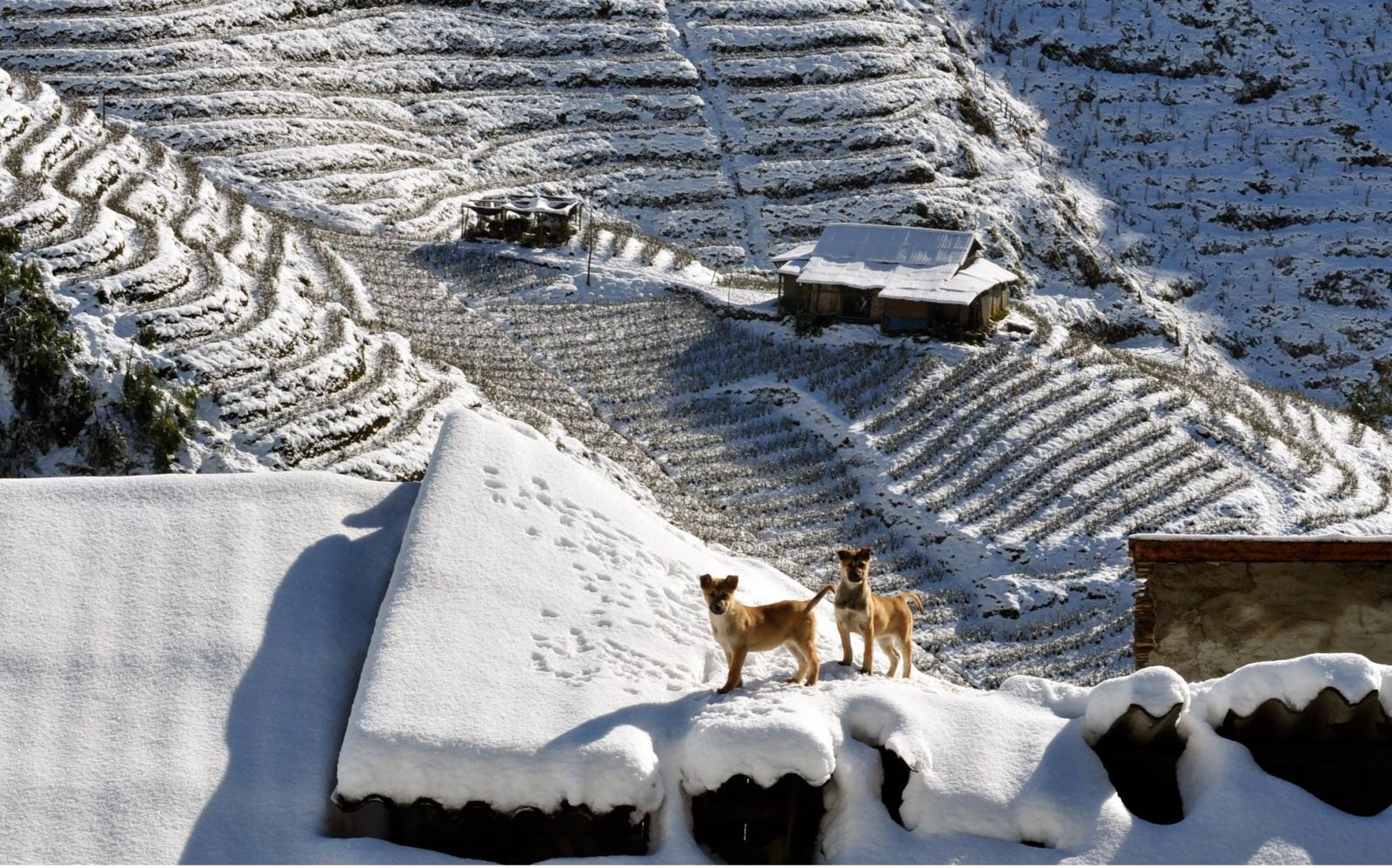 Sapa Terrace Fields in Snow
If you are a good cold resistance person, just come to Sapa in December, write your name on the ice and snow at the top of Fansipan Peak. Or else, you can visit some locals village and see the exotic but peaceful beauty of Vietnamese ethnic village in pure snow.
Winter cuisine in Hanoi
It's fatty time at Northern Vietnam and Hanoi – the Capital is absolutely a city of the best winter cuisine in Vietnam. From the early of November, many restaurants and vendors in Hanoi changed into their winter menu with more hot dishes, especially the snacks and deserts recipe. Let's take a look at some typical menu for winter in Hanoi:
Appetizers – Spring rolls, fried fermented pork roll and pillow cake
What is more perfect than starting your food tour in Hanoi by some fried dishes? Throughout the streets, vendors and small restaurants selling newly fried stuffs from sweet snacks like banana cake, corn cake and sweet potatoes cake to savory appetizer like spring rolls, fried fermented pork roll and pillow cake which are made by pork or has pork inside, deep fried in super-hot oil, has delicious smell and all are so crunchy.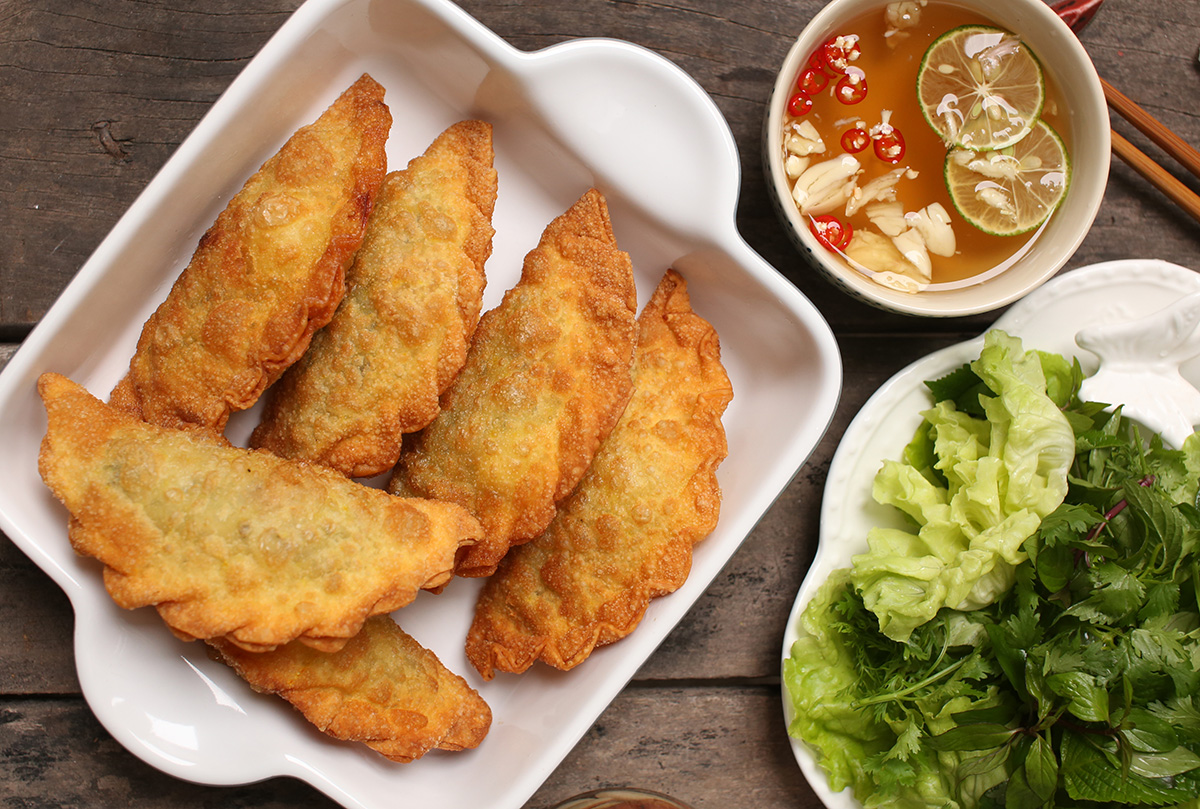 Vietnamese Pillow Cake – Banh Goi
Main dishes – hot noodles or Vietnamese-style steak
Vietnam is famous for hundreds types of noodle here and the most famous one obviously is Pho. This dish is being sold all around the world which make people recognize it as a symbol dish of Vietnamese cuisine. If you tried Pho before in your country, you still should try this dish in Hanoi so you can see it much different from the Pho you have known. While Pho selling in most of foreign countries is the Southern-style Pho, Pho in Hanoi is the Northern-style Pho with different recipe from the broth to the topping inside. In fact, Pho was born at the North of Vietnam so don't forget to try the ancient taste of it when you come to Hanoi.
But Pho is not the only type of noodles in Vietnam, there are variety noodles dishes with different kinds of noodles and hundreds ways to cook. Some suggestions for you are Bun Cha (grilled pork noodles), Bun Rieu (crab paste noodles), Mien Luon (eel noodles/rice vermicelli), etc.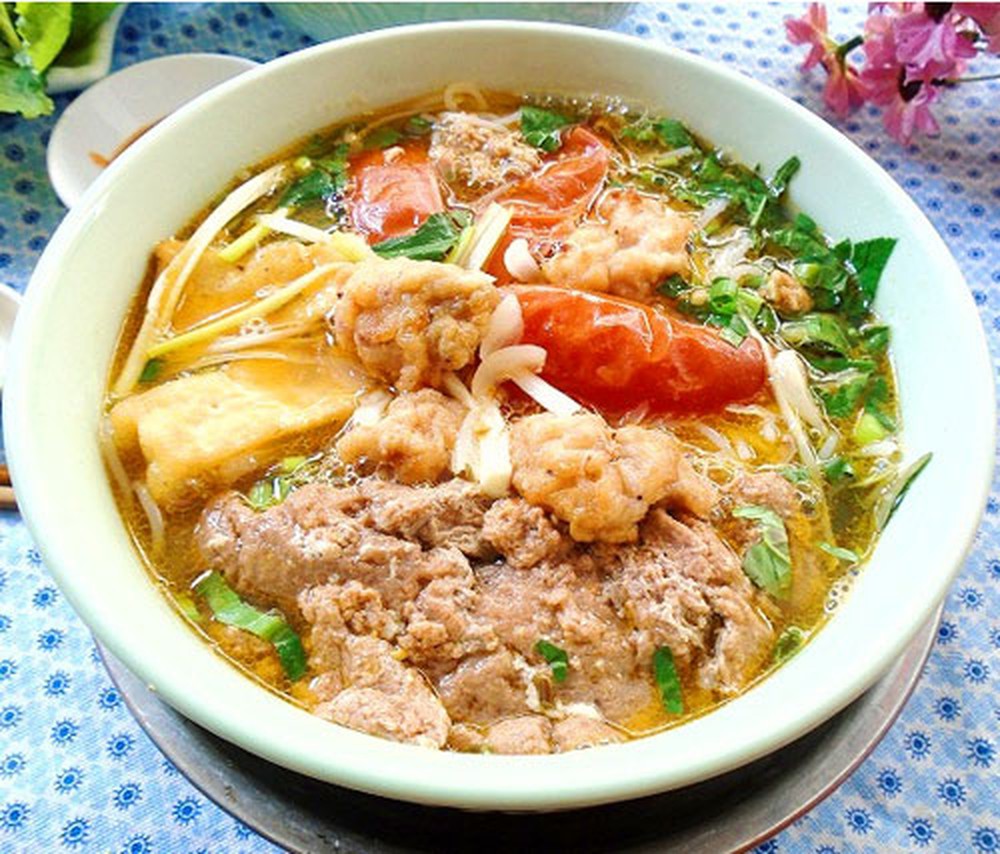 Crab Paste Noodles – Bun Rieu
On the other hand, if you feel unfamiliar the taste of Vietnamese noodles and not so good at using chopstick, you may be more comfortable with the Vietnamese-style steak. Actually, you can find the similar dish in China Town at US, Europe, Australia, New Zealand, etc. as this type of steak comes from China (in China Town, they call it Chinese steak). However, after arriving in Vietnam at the last century, up until now, the dish is changed to be more Vietnamese using local spices and ingredients.
The common things between Western steak and Vietnamese steak are they all made by beef, grilled or fried with butter, eaten with French fries & sauce and you use fork and knife to eat. However, the taste is totally different as Vietnamese steak needs more spices than the Western one and it also has different cooking standard. There are at least 5 – 8 traditional local spices used in Vietnamese steak such as 5 main spices (peppercorns, cinnamon, star anises, cloves, fennel seeds), ginger, black pepper, etc. which are not only can remove the smell of beef but also make the dish has attractive aroma. Besides, there is also no rare / medium rare option with Vietnamese steak, it is always served when fully cooked but the beef still has to be soft and juicy. You will also find that Vietnamese steak is served with plenty of black pepper sauce which is not only to eat with the steak but also to dip a Vietnamese baguette.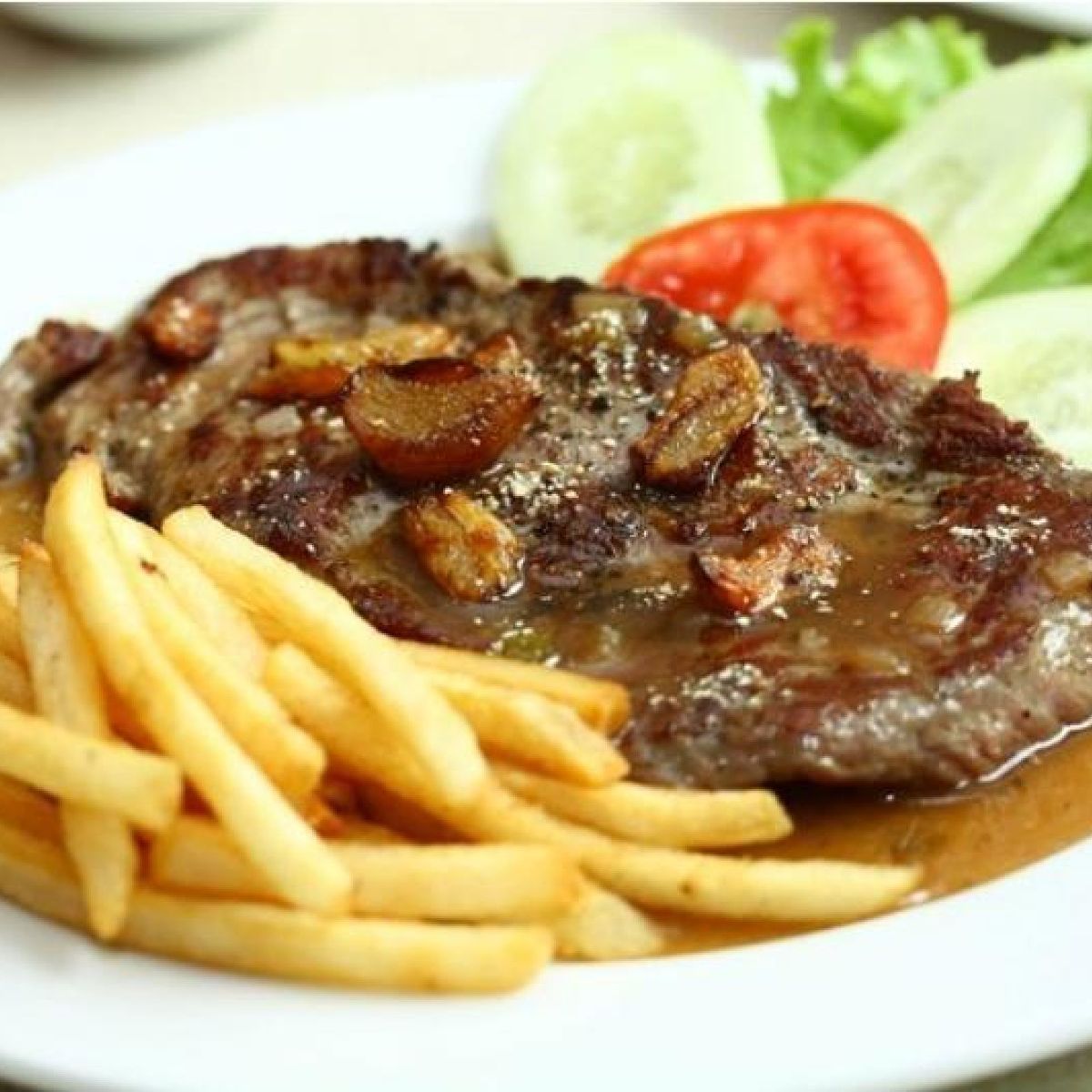 Vietnamese Beefsteak
Dessert – traditional sweet soup
You only can find the Hanoi hot traditional sweet soup in winter as no one can sell it in a summer day when the daily temperature is about 38 – 40oC. There are many types of hot traditional sweet soup for you to choose which can be made from sesame / green beans / black beans / red beans / rice ball and may add some hot ingredient to warm up the body as ginger and brown sugar. As the hot traditional sweet soup is made from healthy ingredients, easy to eat and you only can taste it when come to Hanoi in the winter, just don't forget to try it when you come to Vietnam on December.
Rice Ball Sweet Soup – Che Troi Nuoc
Year-end party in Ho Chi Minh City
Ho Chi Minh City is the most crowded place in Vietnam. With more than 10 million of population, the streets are packed with people and transportations on the final day of the year and the year-end party on the street here is still continued over the midnight. The youngsters are the one who create the crowded street at the New Year Eve. Although Vietnamese people have only 1 day off on 1/1 and must come back to work on 2/1, but the super short holiday cannot prevent them from the "work hard, play hard" spirit throughout the city. People in Ho Chi Minh really love parties and of course most of them cannot miss the chance to hanging out on the New Year Eve. Normally, people will gather at the city center, on some most popular hot spots like Bui Vien Street, Nguyen Hue walking street, etc. and after 8 p.m. the number of people hanging out on the streets boost fast and the city center stuck in traffic jam. People eat and drink throughout the streets with their family, friends and sometimes even strangers. Some countdown screen will be available in different corner in the city center where people will gather here, count to the first moment of the New Year together. All though it is not the main holiday of Vietnamese, firework still is shoot in Ho Chi Minh City on every New Year Eve. Normally, there will be 2 – 3 spots chosen to shooting firework and there will be hundreds or even thousands of people will gather there to see the performance. If you come with children, just try to be there soon for a good view of watching firework and keep your kids' safety.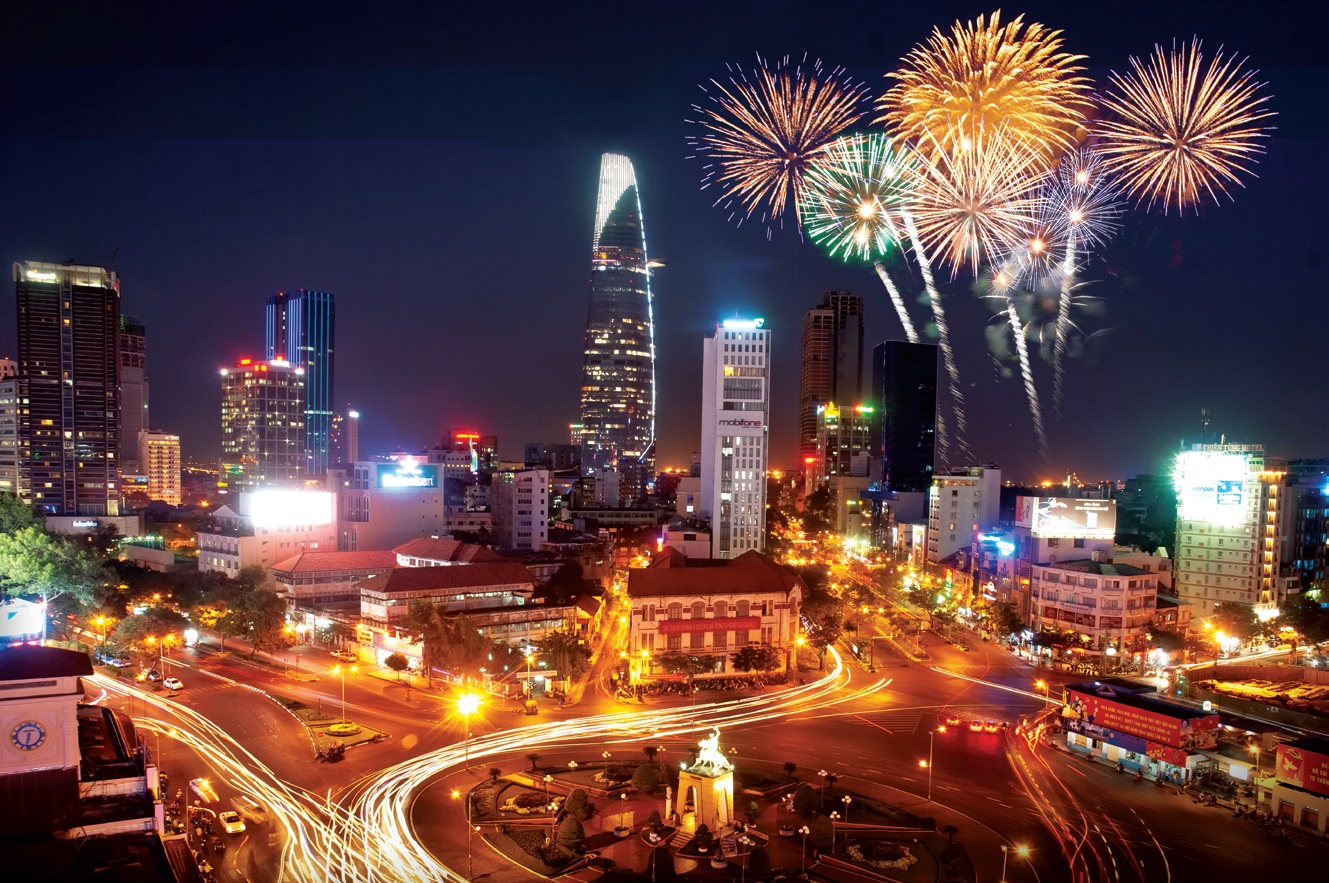 New Year Eve Firework in Ho Chi Minh City
Above are just some most typical things you should not miss when coming to Vietnam on December. However, there are more interesting things waiting for you to come and explore in this S-line country, so pick up your luggage and book a tour to discover Vietnam now!