We were given the chance to review UberSmart Math Facts from UberSmart Software as a part of being on the SchoolHouse Review Crew in exchange for an honest blog review.

UberSmart Math Facts
is a software program that you put on your computer for primarily kids in grades K-6
th
.  In order to get this math tutoring software system, please note that you have to have Windows 7, 8, XP or Vista only. However, I must admit to playing around with it myself to see if I could increase my Math speed calculations again. This program is designed for helping the user improve their math facts. It can be used by eight or more students.
This program actually covers a WIDE range of topics. It covers dot cards, keyboard entry (ten-key numbers), and flash cards. The flash cards cover addition, subtraction, multiplication, and division. When a student is doing the addition and subtraction parts it only goes as high as the 9's. However, when they do the multiplication and division section it goes as high as the 20's.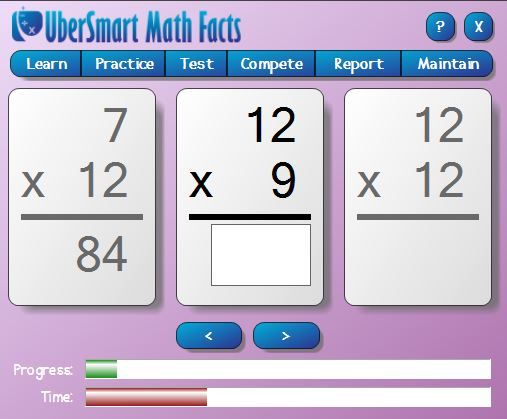 When we got this software, I did have a bit of trouble getting it downloaded and activated. Once I did though, it worked beautifully. I was easily able to add my student's information into the system. Since I did that I was able to check out reports on how everyone was doing on their dedicated time spent on this software.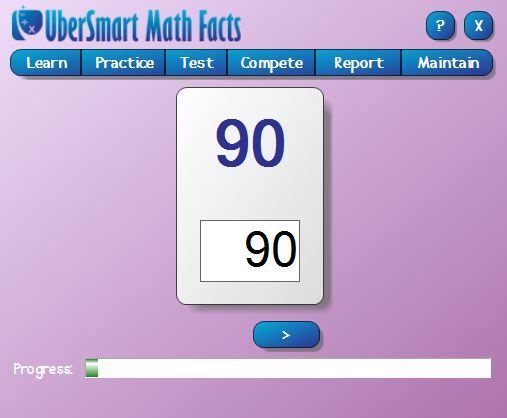 As you can see from the image, there is a learn section where they can learn how to best do the problems. Then they get to practice the stuff they learn. Of course, then they get tested. I personally love the compete section because they can compete against the time clock. Of course, once they have mastered the skill they get a certificate that they get to keep.
I loved the fact that I no longer have to hold flash cards for my kids anymore, which is a REALLY boring task and very time consuming. This program does it for them. They can physically see how they are doing within the reports section. This allows the students to take on their mastering of these skills on their own. As we all know, I'm all about giving my kids independence!
It's a fairly user friendly program. There's not a lot of bells and whistles to it like other programs at all. It's very straight forward. Kids have no way of getting sidetracked by seeing videos or games on the side because the only game like aspect to it is them racing against a clock to get their answers correctly. As a mother, that is actually a good thing in my book.
When they are doing this program, I don't have to hear, "Mommy can I play this game or watch this video?" It doesn't leave room for me to be the bad guy. They have to spend 20 minutes of this program and then they can go on to something else. I honestly wouldn't recommend long periods of time on this unless your kid loves doing it because it does become tedious after a while. (At least it does to our ADD filled home.)
If you're looking to help someone brush up on their Math skills, be sure to consider getting UberSmart added to your computer. It's a one-time purchase and you own it for life. You can get a family package which can be used on all computers in your home for $24.95 or you can get a classroom license starting at up to 10 students for $49.95. They do provide you with a 100% satisfaction guarantee too.
Be sure to check out my other SchoolHouse Crew's review by clicking the image below.

Do you have kids or someone else in your household who could benefit from this type of program?