Las Vegas is a lively city filled with energetic younger and older adults. However, a handicapped person can still enjoy many of the same Las Vegas shows and activities as everyone else.
Virtually all the entertainment productions, museums, tours, and other attractions have wheelchair access or special accommodations for handicapped people. Therefore, your disability doesn't have to stop you from enjoying the best activities and attractions in Las Vegas.
Below are the top seven things to do in Las Vegas for handicapped people.
1) Cirque du Soleil's "Mystere"
Handicapped people deserve to see the Las Vegas Shows: Comedy, Magic, Concerts & More. Mystere is a long-running show from the legendary Cirque du Soleil production team. It is a 90-minute show with a display of positivity and energy from incredibly talented and skilled performers. The combination of athleticism, imaginative costumes, and colorful sets create a spectacular viewing experience for audiences.
Mystere is performed in the Mystere Theatre at the Treasure Island Hotel in Las Vegas. The Mystere Theatre seating chart has a designated wheelchair section to accommodate those who are handicapped. This section has open space for handicapped people to park their wheelchairs and watch the show without any obstructions blocking them.
2) The Neon Museum
The Neon Museum showcases neon signs from historic Las Vegas casinos, hotels, and other businesses, some of which are no longer operating. The museum saved and salvaged these signs before the hotels and businesses were demolished or relocated. Some neon signs are from the iconic Stardust Hotel, Moulin Rouge Hotel, Desert Inn, and Silver Slipper.
Visitors can see the neon signs at the two-acre Neon Boneyard at the museum. Handicapped visitors can use their wheelchairs and crutches on the special pathways containing smooth gravel surfaces. They make moving around the Neon Boneyard easy when dealing with a disability.
3) Shark Reef Aquarium
The Shark Reef Aquarium displays over 2,000 marine animals across 100+ species of aquatic lifeforms. All of which are inside a tank filled with 1.5 million gallons of water. The best experience is the mystical shark tunnel, where you see sharks and marine life in every direction around you. It'll almost make you feel like you're inside the water tank with the sharks
The aquarium is friendly to handicapped people in wheelchairs. You have the option to travel on clear pathways, elevators, or ramps to navigate your way through the aquarium.
4) Blue Man Group
Blue Man Group has been a nationally recognized show and performance group for over two decades. The three blue-skinned performers blend science, music, and art to create a charming theatrical performance in the Blue Man Theater of the Luxor Hotel. They use props and percussion to amaze audiences and make them laugh without ever uttering a word.
Handicapped guests will find it easy to attend the Blue Man Group show because the Blue Man Theater has been custom designed with a designated wheelchair access section. So whether you're a handicapped child or adult, you will have a relaxing and entertaining time attending the Blue Man Group show.
Would you like to learn more about Blue Man Group or find other shows in theatres with wheelchair-access seating sections? If so, visit Vegas Lens to discover more amazing Las Vegas shows, including exclusive promo codes and discounts on show tickets.
5) Gold and Silver Pawn Shop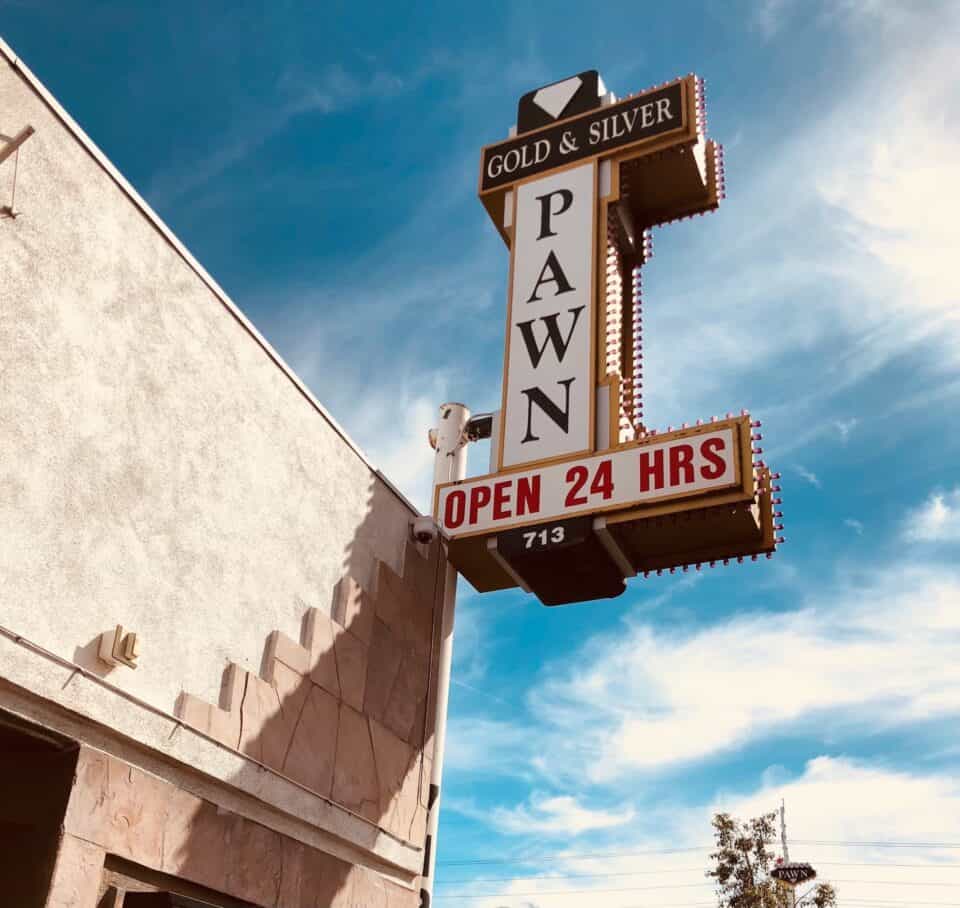 Do you like the reality television show "Pawn Stars" on the History Channel? How would you like to visit the actual pawn shop where the show is filmed in Las Vegas? The Gold and Silver Pawn Shop on Las Vegas Boulevard is open for business if you want to pawn, buy, or sell something.
Of course, you probably won't see the actual pawnbrokers from the show unless you buy a VIP Meet and Greet Tour Pass. Otherwise, feel free to visit the store anytime between 10 AM and 5 PM.
6) High Roller Observation Wheel
The High Roller Observation Wheel is a relaxing and thrilling ride at the same time. Within 15 minutes of boarding your 360-degree glass cabin, the observation wheel will take you 550 feet above the Las Vegas Strip. It is the tallest observation wheel in the world, so you can expect to have the experience of a lifetime.
Each 360-degree glass cabin is big enough to hold 40 people. As a result, special accommodations can be made for handicapped people in wheelchairs who want to ride in the cabin. Since it is not a fast ride, it should be more than comfortable for a handicapped person to experience.
7) SlotZilla Zipline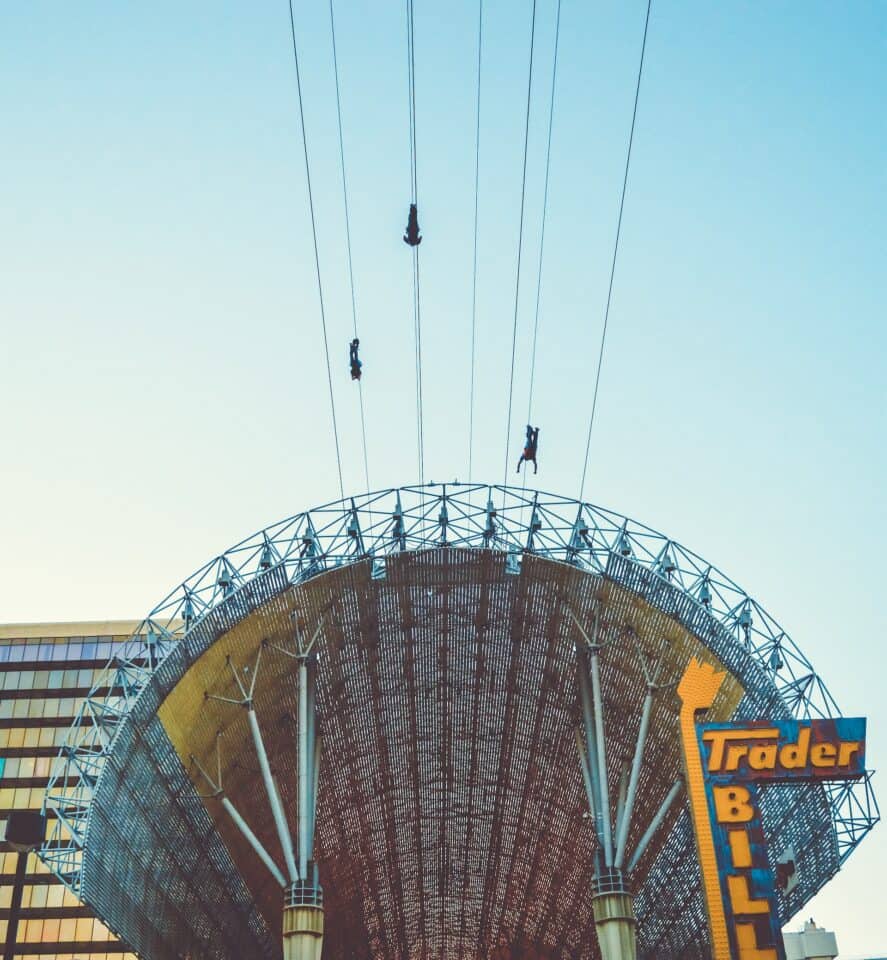 The SlotZilla Zipline is a 114-foot-tall building resembling a giant slot machine on Fremont Street in Downtown Las Vegas. It contains two thrill zipline rides: the Zip-Zilla at 7 stories high and the Super-Hero Zoom at 11 stories high. The former allows you to zipline vertically across two blocks of Fremont Street, while the latter lets you zipline horizontally across five blocks.
You may be wondering how this thrill ride is suitable for handicapped people. The SlotZilla Zipline is one of the few thrill rides in Las Vegas that is ideal for handicapped people. The staff secures your body to a harness and sends you zooming at no more than 35 miles per hour down the zipline safely. You don't have to do hardly any work on the zipline because it is all done for you. That makes it perfectly safe and easy for a handicapped person to enjoy.
Conclusion
Don't let your disability stop you from enjoying the best Las Vegas offers. Even if you cannot go on speedy roller coasters and scream rides, you can still enjoy other Las Vegas shows, rides, and activities. Just plan your Las Vegas travel itinerary accordingly.