As a part of the SchoolHouse Review Crew we were given the chance to review Supercharged Science in exchange for an honest review.
I was excited to be able to review this program with my boys for a lot of reasons. The main reason is my boys LOVE Science. It is one of their favorite subjects to explore. They have been begging me to do more Science experiments with them. This e-Science Learning program is designed for kids in grades K-12.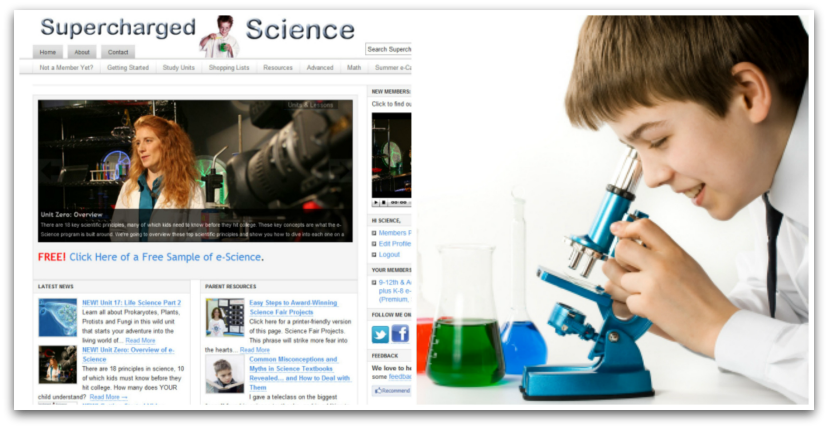 I've stressed many times over that I'm not crafty at all. Well, that in turn means that Science experiments for me are hard come up with or even do. I've seen many wonderful ideas on Pinterest, but they lack SHOWING me, let alone my kids, how to do it.
For the 800+ activities, experiments, and projects she has us complete she is very detailed in the lesson aspect of it. She includes "text-book type reading to support the material in the videos." She treats this like her online classroom. We do feel like we are actually in a classroom with her. One of the main features I really like about this program is the kids are able to add comments and/or questions at the end of each section, and they can get a response from Aurora and her team. To me that makes it feel like I'm actually paying to have an instructor help me with teaching my kids what can be considered a hard topic to learn for some students.
Quite honestly, I didn't have to do experiments with the kids for them to learn and grow from this program. They literally watched as many of the videos and experiments as I would let them. Picking out which ones we wanted to do was actually a battle because the boys wanted to do ALL of them. Here are a few of the simple ones she gave us to do, but I'm sure that we will do more in the months to come.
If I had the money to invest in all the supplies needed for all of the experiments, I could keep the kids entertained for every day of the week through all of the experiments and lessons for an extended period of time. She covers every topic imaginable with Science. We have this program to review for six months, and I can tell you that won't be long enough for my kids. They will want to go through every lesson she offers in this e-Science Program.
With the e-Science Premium Membership we gain access to the "hands-on online science curriculum for homeschoolers" for only $37.00 per month for grades K-8 and $57.00 per month for expanded 9-12 grade material. This e-Science Learning Program is awesome because the instructor provides lessons that the kids can follow along and enjoy immensely.
As a loyal reader to my blog, you have the chance to take advantage of this free copy of the Science Activity Video Series and Guidebook. You can gain more information about the Supercharged Science program for yourself by checking out their website. You can also connect with Aurora Lipper from Supercharged Science on Twitter, Facebook, Pinterest, Google+ and YouTube. You can even read the SuperCharged Science blog too.
Don't forget to check out what the other Schoolhouse Review Crew has to say about this program and check out their experiments they did with their kids by clicking on the image below.

Does your child struggle with Science or love it?