I've been hearing from many different bloggers that linkups are a waste of time and that you don't receive any return from doing them. It is our mission with Small Victories Sunday Linkup that you do receive a return for your time that you take to link up your blogs with us. I know as a team we are ensuring that you all receive some social media love and also a visit from us. I may not hit every one of your posts, but I do strive to hit as many as I can in a given week. You'll most likely see your posts shared across my Facebook, Twitter, G+ and Pinterest accounts. We love getting to know you as bloggers and making these connections with you. You never know who is going to see your post as a result of you stopping by here! They may not visit your post within the same week or even directly from this page, but maybe from a social media post that we did for you. Please keep that in mind when you think about linkup parties.
Hello lovely readers! Welcome back to another fine edition of Small Victories Sunday Linkup, THE place to be to read about the best books, recipes, crafts, DIY, life and blog hacks the blogosphere has to offer. Readers, get ready to be inspired to read, eat, craft, and live well!
Bloggers, our linkup is designed to share your BEST posts to inspire our fast growing community of readers. Share with us anything that will help others live a happier and healthier life. Sunday is the perfect day to reflect and celebrate the week that passed and look forward to the week ahead. Our linkup is open all week long so feel free to stop by anytime, it's never too late to linkup with us. If you need writing prompts or to see past linkups, visit our main Small Victories Sunday Linkup page.
A friendly reminder that our goal is to inspire others through positive posts, posts that are rude or offensive may be deleted from the linkup. Also, since my kids visit my blog, please keep content free of sexual themes. Thanks!
Bloggers, give some love to your extra special hosts who do their best to encourage and promote your posts!
Ways You Can Follow Your Hosts:
Tanya M from Mom's Small Victories | Pinterest | Facebook | Instagram | Twitter | Google +
Meagan from Sunshine and Sippy Cups | Pinterest | Facebook | Instagram | Twitter | Google +
Echo from The Mad Mommy | Pinterest | Facebook | Instagram | Twitter | Google +
Gail from Frugal & Coupon Crazy | Pinterest | Facebook | Twitter | Google +
Heather from GeminiRed Creations | Pinterest | Facebook | Twitter | Google +
Kimberly from Keystrokes by Kimberly | Pinterest | Facebook | Instagram | Twitter
Crystal from Tidbits of Experience | Pinterest | Facebook | Instagram | Twitter | Google +
Featured Bloggers
Our Featured Bloggers for most clicked posts from last week's linkup were:
Plan Your Work and Work Your Plan from Medium Sized Family
Don't Waste Your Time Planning from Giftie Etcetera
Attention Bloggers: Organize Your Link Parties from Giftie Etcetera
The Benefits of Starting a Parenting Blog from Wading Through Motherhood
Currently (September)…from Sunshine & Elepants
Save Time with a Standard Grocery List by Medium Sized Family
Great job everyone! Grab the Featured Blogger button below if you like and spread the good news that you were our Featured Blogger this week!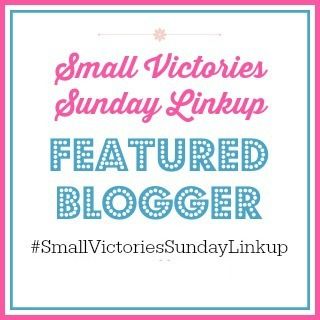 My Favorite Picks
1.) My first pick is a reminder that we need to make time for God in our lives. I've actually stressed this same point when I stated that in order for my homeschooling journey to be a success I need to make time reading the Good Word. Emily wrote about this principal in her post The Answer is More Time in Him: Putting God First .
2.) I love when I can read a blogger who has a sense of humor. I have one, but I'm terrible at putting the humorous moments into words! We have plenty of funny moments that happen in our life each day that I long to share with you. MomFever's post about the 5 Similarities Between Toddlers en Teenagers Playdates made me chuckle because it's darn right true.
3.) Beth from Living With Beth shared 10 Money Saving Tips You Can Use Now. I honestly expected to see the same standard tips that you see all across the web. Instead, I saw new and fresh ideas. WARNING: You may end up on her blog for some time because she shares a lot of valuable information! Her site looks mighty basic, but it's jammed pack with quality posts. 
Now It's Your Turn to Share Your Favorite Posts and Small Victories!
* Following your hosts is not required but appreciated!
* Grab the Small Victories Sunday button and place it in your sidebar or the post you are linking up.
* Share up to 3 of your favorite blog posts you want to share. Enter your link below and let's celebrate our small victories together! Please refrain from linking up posts with mature themes like erotica, new adult or offensive language.
* Please visit at least 2 others for every link you enter. This linkup only works if we support one another, your visits are crucial to fellow participants.
* By linking up, you are giving the hosts permission to share your post and post images on their social media pages and our Featured Blogger collage.
* By linking up, you are giving the hosts permission to email you notifications when the linkup is open. Your email addresses are not shared and you can unsubscribe to emails at any time.
* Stop by our Small Victories Sunday Linkup Board on Pinterest and like and repin the posts to your boards.
* Spread the word! The more you share about the linky, the more visitors you will get to your content too. Please use the #SmallVictoriesSundaylinkup hashtag so we can find your posts and share them too!