I was given Logic of English to review in exchange for an honest blog review. That in no way shaped our opinion of this product.

Logic of English is a program that uses a "multi-sensory method" for teaching students reading, writing, spelling, phonics, and grammar for students of all ages. It is a program that really covers many avenues in one neat system. There is a lot of different programs available through Logic of English.
We had the pleasure of reviewing the Foundations, Level A which sales from $9.00 to $484.00. Everything we got came to $165.00. However, it was worth every penny. The Foundations, Level A that we got came complete with the Teacher's Manual ($38.00), Green and Blue Phonogram Game Cards ($28.00 each), and Basic Phonogram Flash Cards ($18.00), Doodling Dragons: An ABC Book of Sounds ($15.00), Cursive Handwriting Quick Reference Chart ($10.00), and the Rhythm of Handwriting Cursive Tactile Cards ($28.00.) Foundations, Level A is great for Kindergarten or Pre-K age group. I choose this level because Delbert still had not conquered reading at this level like I want him to.
I was intrigued when I had the chance to sign up for this program, but I in no way was prepared for everything this program has to offer. The Teacher Manual itself is worth its weight in gold. Considering I'm not creative at all when it comes to my lesson plans at all, this book makes me feel like I'm a 'fun homeschooling parent.' It is filled to the rim with ideas to make learning fun. It has 40 plus lessons in it. They are so much fun that both the kids and I didn't want to just stop at one lesson.
What is really neat is we can pretty much do these lessons anywhere. We are not limited to a classroom setting. In many ways, the activities in the book are more suited to do outside a classroom because there are many physical activities, and at times it does lead to a lot of loud outbursts. The kids have so much enjoyment doing these educational stunts that they totally utterly forget they are learning stuff at the same time.
I love the fact that there are suggestions for small simple ideas for small games or all day ideas. I believe our favorite day was when we had an "I Day" We literally consumed Italian food, ate ice cream, made homemade ice cubes (something my kids thought was so much fun-even though when I was a kid I had to make them every time I got something to drink), and we even went on a hunt for insects. We investigated what types of insects we found too. I never would have thought of doing all of those fun simple things had this Teacher's Manual not given me the idea. To say I'm in love with Teacher's Manual would be understatement.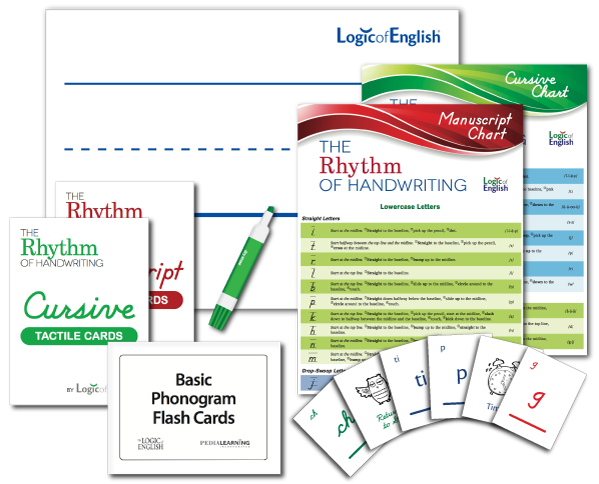 We also got to review the Rhythm of Handwriting Cursive Complete Set too. Jimmy has been writing cursive for a long time now. So, I had Delbert do it. He surprised me how well he wrote in cursive using this system to teach him. Plus the Cursive Workbook has plenty of other lessons that help with learning high frequency words.
I would highly recommend Logic of English to anyone who has a child struggling with learning to read, spell, or write. It's a totally worth the money and time that goes into actually doing this program properly. Delbert has improved his reading quite a bit since we got this program. I know we'll be using it with Zeva when she reaches the age of being ready to use this system. Zeva already played some with the activities we've done, but she isn't old enough to fully understand it yet. One of the things I love about it, is the fact that even Jimmy, my 9 year old, enjoyed being a part of the stuff we did. I am actually tempted to get the next levels up just because of how much this beginner level impressed me.
You can gain more information about Logic of English by visiting their website. You can connect with the Logic of English crew on Facebook, Twitter, Pinterest, and also YouTube.
Don't forget to check out my fellow Schoolhouse Crew's blog reviews of this awesome program by clicking on the image.

Do you know someone who would benefit from using this program?